Trolling College Kids About ISIS: The Trend That's Catching On
ISIS pranks are all the rage.
By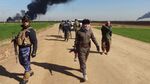 James O'Keefe's Project Veritas has struck again. The undercover journalist and video provocateur released a tape Tuesday in which a camera operator posed as a young Moroccan looking to attend Cornell University and start a club. He strolled into the office of Joseph Scaffido, an assistant dean for student activity, and asked whether he could start a special kind of club to bring Islamic "freedom fighters" to campus. The dean blithely goes along.