Trolling College Kids About ISIS: The Trend That's Catching On
ISIS pranks are all the rage.
By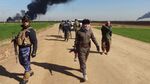 James O'Keefe's Project Veritas has struck again. The undercover journalist and video provocateur released a tape Tuesday in which a camera operator posed as a young Moroccan looking to attend Cornell University and start a club. He strolled into the office of Joseph Scaffido, an assistant dean for student activity, and asked whether he could start a special kind of club to bring Islamic "freedom fighters" to campus. The dean blithely goes along.
There's one problem with the video. It's framed, throughout, as a student getting permission to start an "ISIS club." A New York Post write-up of the video is headlined "Cornell Dean Says ISIS welcome on campus in undercover video." Yet at no point in the released footage does the investigator use the acronym "ISIS." He spells out the acronym, asking Scaffido if he he can support the "Islamic State in Iraq and Syria, the families and the freedom fighters," then "bring a freedom fighter to speak" to "hear the situation, what it's like, their lives, why they're fighting."
Should that matter? Well, the "ISIS" acronym might have triggered a b.s. detector that the full name of the Islamic state did not. Most of the new, quick-turnaround books about ISIS don't even use the full name–"Islamic State of Iraq and Syria"–in the title. In political debate about fighting the group, some still call it the "Islamic State of Iraq and the Levant." While the journalist does ask a question about Hamas, and Scaffido doesn't react, he doesn't really test the toxicity of an "ISIS club." It's almost as if the investigator told Scaffido that his "epidermis was showing."
Scaffido did not answer a question from Bloomberg, but Cornell has started to push back.
"It is shameful that any individual would pose as a student facing racial discrimination at another university, ask leading questions on hidden camera about Cornell's tolerance for differing viewpoints and backgrounds, and then conveniently splice together the resulting footage to smear our assistant dean and our University," the college's president Davis Skorton said in a statement. "After speaking with Assistant Dean Scaffido, I am convinced that he was not aware of what he was being asked."
In a statement, Project Veritas explained that the full video of the exchange would not be released. "Project Veritas does not release raw or unedited tapes or reporters' notes of investigations," said the group. "This policy ensures compliance with federal and state laws while providing the best privacy protection for individuals recorded. The reporting process and methods of Project Veritas are proven successful and effective and are the protected intellectual property and trade secrets of Project Veritas." 
Here's the thing: Cornell is not the first elite university to play accidental host to conservatives who want to make a point about ISIS. Last October, Campus Reform sent a crew to ask Harvard students whether they considered America a bigger threat than ISIS. One month later, video journalist Ami Horowitz took an ISIS flag to Berkeley, and intermittently yelled things about how the Islamic State deserved to exist, to see if he got a reaction. Footage collected, he switched things up, waved an Israeli flag, and let the vitriol flow.
The lesson here: College students and administrators make easy targets. What that says about liberal acceptance of the people building a murderous state in the Levant is much less clear.