The Newest Thing in Cocktails Is Vintage Liquor
As spirits age, they change in flavor and intensity. Now you just have to find them
By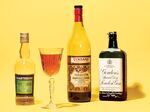 Old wine is good; old liquor is not.
Or so the thinking went until Edgar Harden, a Christie's wine specialist, came across a client's unwanted cases of 1960s Gordon's Gin. Instead of trashing it, Harden went home and made a martini.
"It tasted incredible," he says of his 2008 discovery. "It was softer, with the citrus coming forward."
Liquor evolves in the bottle, and over time, Harden found, gin's juniper flavor fades as the citrus becomes more prominent. He also discovered that rum tends to become lighter and subtler with age. He now hunts for 30-plus-year-old bottles from cellars around the world and resells them to high-end bars like New York's Experimental Cocktail Club, which rotates vintage drinks on its menu. 
"We get our vintage bottles from auctions, collectors, and Harden's company," says Damien Aries, the general manager of the bar. You, too, can purchase old bottles from Harden's stock—most cost a reasonable $150—through his business, Old Spirits. Above, Yellow Chartreuse Tarragona from the 1970s and Cinzano Formula Antica from the 1960s whose flavor is stronger and smoother than its current incarnation.
"Older gin loses some of its sting," Aries says, of a Gordon's Gin spring cap from the 1950s also seen above. Combine the three to make a Bijou, which means "jewel" in French. The drink costs $100.
"We used a classic recipe so people could compare," Aries says. "The vintage one is slightly sweeter, with honey and herbal flavors."
Before it's here, it's on the Bloomberg Terminal.
LEARN MORE