Peggy Young Won Her Pregnancy Discrimination Case Against UPS, Sort Of
The Supreme Court has sent the case back to the lower court
by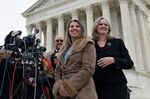 If you're a pregnant woman working in the U.S., things might get easier for you.
The U.S. Supreme Court today vacated a lower court's decision against Peggy Young, a former UPS delivery driver who sued the parcel service in 2007 for refusing to accommodate her pregnancy-related medical needs—she couldn't lift boxes over 20 pounds. UPS had made similar accommodations for other employees, but Young was put on unpaid leave and told to return to work after she'd had her baby.
Young claimed she was covered under the 1978 Pregnancy Discrimination Act, which says it's illegal for companies to fire, demote, suspend, or otherwise discriminate against workers simply because they're pregnant. UPS disagreed, believing that its policy of accommodating only certain types of employees—those who were injured on the job or lost their driver's licenses, or whose health problems were covered under the Americans with Disabilities Act (ADA)—was gender-blind and had nothing to do with pregnancy.
 "UPS's policy and practice was if any pregnant employee requested any accommodation at all, the employee was sent home for the duration of the pregnancy," Sharon Gustafson, one of Young's attorneys, said in a news conference following the ruling. In contrast, employees who had been diagnosed with cancer, had a heart condition, lost their driver's licenses for driving under the influence, or sprained an ankle on the job were put on desk or light duty. After the Supreme Court agreed to hear the case, UPS changed its policy to cover pregnant workers.
Young's case appears straightforward—there's a law against pregnancy discrimination, and Young was treated differently from other employees because she was pregnant. But there are all sorts of legal arguments that complicated the issue. The main reason for her loss in the lower courts was UPS's argument that other workers who were hurt outside of work but who weren't covered by the ADA were often denied accommodations, just as Young was.
The Supreme Court's decision isn't likely to cause a widespread revision of companies' disability policies so that pregnant women will get special benefits they didn't get before. "The Court doubts Congress intended to grant pregnant workers an unconditional 'most favored nation' status, such that employers who provide one or two workers with an accommodation must provide similar accommodations to all pregnant workers, irrespective of other criteria," the Court wrote in its decision. It just says that, barring a solid, logical reason, excluding them from pre-existing benefits enjoyed by other employees isn't OK.
Unfortunately for UPS, it did offer accommodations to large swaths of employees, and the U.S. Supreme Court wants it to explain why. "Why, when the employer accommodated so many, could it not accommodate pregnant women as well?" Justice Stephen Breyer wrote in the majority opinion.
That is what the Fourth Circuit will have to find out. The Supreme Court vacated the circuit court's decision in favor of UPS and told it to try again.
Before it's here, it's on the Bloomberg Terminal.
LEARN MORE