Kamala Harris Looks to Stop Bill Proposal that Would Legalize Killing Gays
The California attorney general asked a court to allow her to block the anti-gay ballot proposal.
By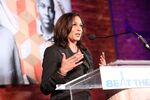 Enough is enough. 
California Attorney General Kamala Harris asked a court on Wednesday to allow her to block a proposed ballot initiative that seeks to kill gays and lesbians the state "with bullets to the head," the Sacramento Bee reported.  
"As Attorney General of California, it is my sworn duty to uphold the California and United States Constitutions and to protect the rights of all Californians. This proposal not only threatens public safety, it is patently unconstitutional, utterly reprehensible, and has no place in a civil society," Harris said in a statement Wednesday. 
"Today, I am filing an action for declaratory relief with the court seeking judicial authorization for relief from the duty to prepare and issue the title and summary for the 'Sodomite Suppression Act.'" Harris continued. "If the Court does not grant this relief, my office will be forced to issue a title and summary for a proposal that seeks to legalize discrimination and vigilantism." 
The "Sodomite Suppression Act" is the brain child of Huntington Beach attorney Matt McLaughlin, who paid the required $200 fee and filed the requisite paperwork to move the odious proposal to the signature-gathering stage. 
As attorney general, Harris, who is currently running to replace Barbara Boxer in the U.S. Senate, is tasked with writing a title and description for all proposed ballot initiatives. 
A Change.org petition seeking to have McLaughlin disbarred has now been signed by 42,000 people.