pursuits
Hermes Says Currencies Will Continue to Drag on Margin
Andrew Roberts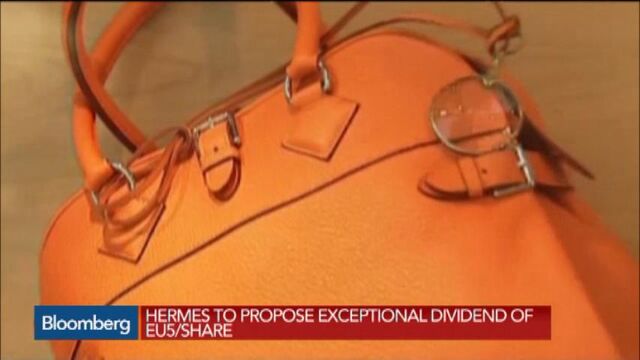 Hermes International SCA, the French maker of Birkin handbags, said currency volatility will continue to drag on profitability as it reported a 7 percent increase in 2014 earnings and announced a bonus dividend.
Year-ahead hedging rates mean currency shifts will shrink the operating margin by 0.5 percentage points in 2015, Chief Executive Officer Axel Dumas said in Paris Wednesday. The measure narrowed by 0.9 percentage points to 31.5 percent in 2014, hurt by the weakness of the yen against the euro.
The forecast added to concern about the immediate outlook for the Paris-based company, which last month projected currency-adjusted revenue growth of 8 percent this year, below its mid-term annual target for a 10 percent increase.
"Our view is that this guidance is very cautious," said Kepler Cheuvreux analyst Catherine Rolland. "So far, we do not see any reason why organic sales growth would decelerate" from the 11 percent gain achieved in 2014.
Hermes shares fell as much as 2.5 percent in Paris and were down 0.6 percent at 309.35 euros as of 12:17 p.m., paring this year's gain to 4.9 percent.
Responding to last week's announcement by Chanel that it plans to decrease prices in Asia and raise them in Europe due to currency fluctuations, Dumas said Hermes doesn't plan to adjust its pricing architecture for now. Increasing the amount the company charges in Europe could hurt domestic demand, he said. Hermes raised prices globally about 4 percent in January.
Pricing Policy
Gianni Versace SpA said yesterday it will also review its pricing. A weakening euro has widened the gap between the price of items sold in China and Europe to a record, with items such as handbags costing as much as 70 percent more in the Asian country, according to Exane BNP Paribas.
Hermes is hedged at $1.32 per euro and 1.37 yen per euro in 2015, versus $1.32 and 1.3 yen in 2014, Dumas said.
Operating profit reached 1.3 billion euros ($1.4 billion) last year, Hermes said in a statement, in line with the average of estimates compiled by Bloomberg. The company also proposed an exceptional dividend of 5 euros a share, on top of a regular payment of 2.95 euros.
Hermes, which created nearly 700 jobs last year, has weathered slowing luxury growth better than many peers as high prices plus limited supply and distribution help reinforce its elitist appeal. The company is targeting 6 billion euros of revenue by 2020 versus 4.12 billion euros last year, Dumas said.
(Updates with 2020 revenue forecast in final paragraph.)