How Kraft-Heinz Merger Came Together in Speedy 10 Weeks
Ed Hammond and Jeffrey McCracken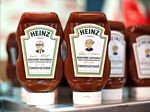 For a deal that will create the processed-food equivalent of an oil-tanker, the merger of H.J. Heinz and Kraft Foods Group Inc. was turned around at a dizzying speed.
In just 10 weeks, starting in mid-January, the two companies agreed to the $46 billion deal, orchestrated by private-equity firm 3G Capital and Warren Buffett's Berkshire Hathaway Inc., which teamed up to buy Heinz a couple years ago.
The fact that each side was represented by a single investment-banking firm helped speed the negotiations, according to people familiar with the matter. So did the pressure on Kraft Chief Executive Officer John Cahill to get a deal done -- or see 3G do a transaction with someone else, they said.
3G told Cahill that Kraft was the best fit, at the same time it made clear it would move on to another food company if the two couldn't reach an agreement, the people said.
The idea of merging Heinz with Kraft was not a new one. 3G had spent months examining a possible bid, exploring where costs could be cut in Kraft's sprawling cream-cheese-to-coffee empire.
At the start of the year, the decision was made to proceed, according to people who provided details on the negotiations, who asked not to be identified discussing private information.
In early January, 3G called its tight-knit coterie of advisers, including bankers from Lazard Ltd. and lawyers from Cravath, Swaine & Moore and Kirkland & Ellis. Usually a quiet period for takeovers, some of the advisers were still on holiday. The message was clear: The Brazilian-based private equity firm that has become the world's most voracious consumer-goods dealmaker was ready to strike again.
Easy Relationship
Alex Behring da Costa, 48, a 3G co-founder and Heinz chairman, flew to Chicago and drove the last 15 miles to the nearby suburb of Northfield, Kraft's home. While it was the first time he had met Cahill, the two men quickly struck up an easy relationship.
Even at that first meeting, Cahill acknowledged the logic of combining the two companies, and the two agreed to meet again in New York, where they could avoid raising suspicion.
Over the following weeks, Cahill and senior Kraft executives made frequent trips to 3G's office to negotiate. Cahill and his team pressed for a big premium to justify shareholders losing control of the company.
Behring da Costa countered that the need for a substantial premium was lessened because Kraft shareholders would co-own a company controlled by two of the world's most successful investors, 3G and Buffett's Berkshire Hathaway.
There was also the question of how to properly value the merger, complicated by Heinz being a private company.
Cahill Motivation
Advisers for Heinz and Kraft settled on valuing Kraft at around $85-$90 a share, said two people who worked on the deal, or about $50 billion in equity value. That number includes the dividend payout of $16.50 per share and then a premium for Kraft shareholders, they said.
Cahill was motivated to do a quick negotiation as well. He had been CEO for only a few weeks, though had served as chairman of Kraft since 2012 and knew the brands intimately.
Antitrust Concerns
3G made no secret of wanting to do a mega-deal. Targets ranging from Kellogg Co. to Campbell Soup Co. to Mondelez International Inc., the snack business from which Kraft was spun out, had been speculated about for months. Cahill was aware of the advantage of doing any deal first, or face the prospect of a rival striking a similar transaction later, said one person familiar with the matter.
Another factor that allowed the deal to move at such a fast pace was the lack of antitrust concerns, often a sticking point in mergers.
"Their brands don't compete, and in mergers of consumer packaged-goods companies, products can be sold easily if regulators are concerned about the loss of competition between any of them," said Fiona Scott Morton, a former chief economist with the Justice Department's antitrust division and now at the Yale School of Management.
The deal is the first transaction exceeding $10 billion that didn't include a big bank -- what's known as a bulge-bracket firm, which dominates the market for M&A advice -- in at least a decade. Centerview Partners LLC served as adviser for Kraft, and Lazard advised Heinz.
Before it's here, it's on the Bloomberg Terminal.
LEARN MORE