politics
Grateful Ghani Warns of Islamic State as Threat to Afghanistan
David Lerman and Billy House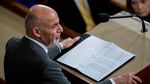 Afghan President Ashraf Ghani invoked Islamic State as the latest threat to his country in a speech to the U.S. Congress seeking continued backing for America's longest war.
While offering effusive thanks for 13 years of support in combat that cost more than 2,300 American lives, Ghani said Wednesday in an address to Congress that Islamic State and other terrorist groups are seeking inroads in Afghanistan and its neighbors.
"Terrorist movements whose goal is to destabilize every state in the region are looking for new bases of operation," Ghani said. "We are the frontline, but the terrorists neither recognize boundaries nor require passports to spread their message of hate and discord."
The hour-long address to a joint meeting of Congress came a day after Ghani won a commitment from President Barack Obama to suspend the withdrawal of U.S. forces for the rest of this year, keeping about 9,800 troops to give Afghan forces continued help in battling the Taliban and conducting counterterrorism operations.
Attempting to depict the defense of Afghanistan in terms of terror threats now gaining the most attention, Ghani said the Sunni extremists of Islamic State are "already sending advance guards to southern and western Afghanistan to test for vulnerabilities."
Even as he appealed for continued U.S. support, Ghani said he was determined to create a "self-sustaining Afghanistan" that would contribute to the global economy, bolster women's rights and serve as "the graveyard of al-Qaeda and their foreign terrorist associates."
'Quite Extraordinary'
Lawmakers, who responded to his speech with repeated standing ovations, gave the Afghan leader high marks for his commitment to reforming the country.
"The speech was quite extraordinary in every regard," said Senator Bob Corker of Tennessee, the Republican chairman of the Foreign Relations Committee.
"I know he made a lot of bold statements," said Corker, referring to Ghani's aspirations for the next decade. "But I do feel certain he's going to make a lot of progress."
Senator Kelly Ayotte of New Hampshire, a Republican on the Senate Armed Services Committee, said Ghani's advocacy for women's rights is a "shining example of the real difference we have made in Afghanistan."
Republican lawmakers were less eager to praise Obama's decision on suspending U.S. withdrawals because he stood by his vow to remove all but about 1,000 troops from Afghanistan by January 2017.
'Arbitrary Date'
Senator Lindsey Graham of South Carolina said while he welcomed Obama's decision to delay the drawdown, he worries about the timeline.
"Don't pick an arbitrary date," said Graham, a Republican on the Armed Services Committee and a potential presidential candidate next year. "ISIL and other groups are looking for places to go," he said, using an acronym for Islamic State.
Ghani used the speech to draw contrasts with his predecessor, Hamid Karzai, who often denounced the U.S. and refused for months to sign a bilateral security agreement with the Obama administration.
"You could have used this opportunity to end the partnership and return home in frustration," Ghani said of the impasse. "But you did not. Thanks to the flexibility shown by President Obama and Congress, we have made up for the loss and have regained momentum."
Welcome Contrast
Some lawmakers noted a welcome contrast exhibited by Ghani and the oftentimes frosty relations with Karzai.
Representative Eliot Engel of New York, the top Democrat on the House Foreign Affairs Committee, praised Ghani as a "very humble man" whose "recognition of the sacrifices of the U.S." marks a shift from his predecessor.
"It's like night and day," Engel said.
Ghani used much of his speech to thank everyone from Obama to U.S. taxpayers for years of sacrifice battling al-Qaeda and its Taliban sympathizers.
He said that someday he hoped U.S. combat veterans would return to visit Afghanistan "not as soldiers, but as parents showing their children the beautiful country where they served in the war that defeated terror."
The American-educated Ghani, a former World Bank official, described being in the bank's New York offices when terrorists struck the World Trade Center on Sept. 11 and even recalled eating "corned beef at Katz's, New York's greatest, greasiest, pickle-lined melting pot."
Before it's here, it's on the Bloomberg Terminal.
LEARN MORE