Democrats Fault Obama Crude-by-Rail Bill for Ignoring Volatility
Jim Snyder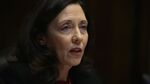 Senate Democrats said the Obama administration's effort to make oil trains safer is inadequate and introduced legislation designed to reduce crude's explosiveness before tank cars are loaded.
A Transportation Department proposal now under review by White House aides would phase-out older tank cars that safety investigators say are prone to rupture. The rule also would require new cars to have thicker walls, better brakes and tougher valves to minimize spill risks in a derailment.
Several fiery accidents of a newer tank car models that exceed federal safety standards, though, have placed more focus on the explosiveness of the crude itself.
"This bill is showing our impatience with the fact that we're in a rulemaking process that doesn't include volatility, and we think that it should," Senator Maria Cantwell of Washington said Wednesday at a news conference at the Capitol.
The legislation by Cantwell and three other Democrats would direct the Transportation Department to set a standard requiring removal of more volatile components like butane and ethane from the oil prior to being pumped into a rail car. The bill also would require a quicker phase-out of cars than now proposed in the Transportation Department rule.
Democrats would need support from majority Republicans to advance the bill. Cantwell said she thought the Transportation Department could act on it own to reduce oil volatility.
Jack Gerard, chief executive officer of the American Petroleum Institute, a Washington lobbying group that includes Exxon Mobil Corp., said requiring the step -- called stabilization -- could disrupt the energy marketplace.
He said no link has been established between the relative volatility of the oil and likelihood and severity of an explosion in a derailment. The issue is being studied by the Energy Department.
Four oil trains in the U.S. and Canada derailed in less than four weeks this year, creating massive fireballs and forcing evacuations of residents. While the derailments didn't cause deaths, they highlighted dangers of hauling oil by train.