Caesars Judge to Weigh Shielding Parent From Creditor Suits
Steven Church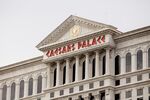 A federal judge agreed to decide in June whether Caesars Entertainment Corp. should be shielded from lawsuits accusing the gambling company of protecting its private-equity owners at the expense of creditors owed billions of dollars.
Caesars' main operating unit already enjoys a temporary reprieve from litigation because it's in federal bankruptcy court in Chicago. That unit asked U.S. Bankruptcy Judge Benjamin Goldgar to extend the shield to its non-bankrupt parent.
Judson Brown, an attorney for the bankrupt unit, said in court Wednesday that the company and its creditors had agreed not to pursue some of the claims in the lawsuits. That means allegations Caesars improperly transferred assets to keep them away from creditors will be investigated as part of the bankruptcy, not in separate lawsuits.
"What's left are causes of action seeking to reinstate the parent guarantee" of some Caesars debt, Brown said.
Lower-ranking creditors claim in the lawsuits that Caesars is trying to dodge responsibility for billions of dollars in debt owed by its bankrupt units.
Four Cases
The Las Vegas-based casino company faces at least four lawsuits in Delaware and New York by creditors seeking to reverse a series of asset transfers and a refinancing that took place before the operating unit sought bankruptcy court protection in January.
Those transactions created a "good Caesars" with the most-profitable assets and lower debt than the "bad Caesars," which is trying to eliminate billions of dollars in liabilities, creditors claim in court filings.
A Manhattan federal judge in January refused to dismiss one noteholder case, saying the alleged asset transfers, and the removal of creditor guarantees, would amount to a violation of the federal Trust Indenture Act of 1939. This month, a judge in Wilmington declined to halt another suit over pre-bankruptcy asset-shuffling.
A court examiner and two official committees of creditors are to probe the transactions in question, according to court records.
Start Date
Also today, Goldgar said he plans to hold a trial as soon as possible to resolve a dispute over whether the official start date of Caesars bankruptcy should be Jan. 12 or Jan. 15. The earlier date would make it easier for creditors to try to get back tens of millions of dollars in payments the company made before the bankruptcy began.
Caesars Entertainment Operating Co. filed for bankruptcy in Chicago on Jan. 15, three days after a creditor group tried to put it in bankruptcy involuntarily in Delaware.
Attorneys for creditors and the company will talk about what evidence will be needed at the trial and report back to Goldgar next month.
Caesars was taken private by Apollo Global Management and TPG Capital in a $30.7 billion leveraged buyout in 2008. It has been struggling ever since with increased competition and a slowdown in consumer spending.
The bankruptcy is In re Caesars Entertainment Operating Co. Inc., 15-bk-01145, U.S. Bankruptcy Court, Northern District of Illinois (Chicago).
Before it's here, it's on the Bloomberg Terminal.
LEARN MORE