Australia Said to Allow Negotiations to Join China-Led Bank
Jason Scott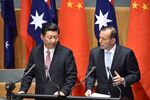 Prime Minister Tony Abbott's cabinet approved negotiations to join China's development bank, a government official said, as Australia becomes the latest U.S. ally to support the Asian nation's effort to boost its influence in the region.
Australia will sign a memorandum of understanding to start negotiations to sign up to the $50 billion Asian Infrastructure Investment Bank, said the official, who asked not to be identified as the decision hasn't been made public.
The decision comes after Australia's most important ally, the U.S., expressed unease with the AIIB as it could weaken the importance of the Asian Development Bank, dominated by Japan and the U.S. The new institution, part of Chinese President Xi Jinping's push to expand his nation's influence in Asia, is gaining momentum after some European nations said this month they want to join.
"The U.S and Australia are both realizing this is probably a turning point in China's intent and capacity to exert authority and leadership in the region," said Greg Barton, a professor at Monash University's School of Political and Social Inquiry in Melbourne. "Now that it looks certain the bank will be formed, I'm sure that there's a view in Washington and probably Tokyo that it wouldn't be a bad thing to get some allies involved."
Founding Members
India, Vietnam, Singapore and Thailand were among 21 nations to sign a memorandum for the bank's establishment last year. This month the U.K. said it would seek to become one of the founding members of the AIIB, while the German Finance Ministry said France, Germany and Italy will follow suit.
Their agreement to China's plan has caused concern in Japan, which holds the presidency of the Asian Development Bank and shares roughly equal voting rights with the U.S. Chief Cabinet Secretary Yoshihide Suga last week questioned whether the AIIB would be able to ensure fair governance and be capable of sustainable lending.
The U.S has no plans to join the Chinese-led bank, White House spokesman Josh Earnest said, while U.S. Treasury Secretary Jack Lew said anyone that "lends their name" to the bank should ensure governance is "appropriate."
The Abbott government said in November the bank would have to be multilateral, with transparent governance, before it would consider joining.
Concerns Remain
Foreign Minister Julie Bishop said in a March 16 interview with Sky News that Australia still had issues concerning the bank's governance arrangements. Those included China's proposal to hold a 49 percent stake in the bank when similar organizations would have 20 percent holding from a shareholder at most, and concern the nation could use funds from the institution to boost its military.
Abbott told reporters in Canberra on Wednesday the fundamental issue was "would major decisions be made by the board and is it going to be a multilateral institution rather than one that's controlled by any one country."
Australia's National Security Committee has approved investing in the bank and discussed figures ranging from hundreds of millions of dollars to A$3 billion ($2.4 billion), the Sydney Morning Herald reported March 20, without citing sources. The paper reported yesterday that the cabinet had signed off on the memorandum, which is yet to be formally announced.
"If we do sign the memorandum of understanding, Australia will move quickly to secure our place in the negotiations and will work closely with like-minded countries," Treasurer Joe Hockey said in a Canberra speech today. "We will seek to ensure that all members have a voice in the AIIB's operations."
Before it's here, it's on the Bloomberg Terminal.
LEARN MORE