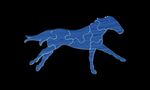 Harry Herbert grew up on the grounds of Highclere Castle—aka the real Downton Abbey. And while he's a self-effacing Brit who doesn't like to brag about the family pile, he's made a name for himself in an altogether different world: the horse-mad set.
Herbert runs Highclere Thoroughbred Racing, a syndicate that puts racehorse ownership within the reach of the simply rich rather than just the fabulously wealthy. For as little as 6,950 pounds ($10,317), Bloomberg Markets magazine reports in its April 2015 issue, you can own a share in a racehorse managed by Herbert and his handpicked team of trainers. "It's like acting as personal racing manager to each and every shareowner," says Herbert, whose father was Queen Elizabeth II's racing manager for nearly 40 years. "This is a way to start people in owning racehorses."

Now, Herbert is exporting his brand of racehorse ownership to the U.S. with Highclere America. The goal: to buy proven British and European horses and fly them across the pond to run in U.S. races, where prize pots can be 10 times what's up for grabs at English races. Together with his U.S. partner, Bradley Weisbord, Herbert bought a filly called Cay Dancer in September and sold shares in her to a group of five U.S. investors. They plan to run her at a series of East Coast races this spring.
Herbert, who started Highclere Thoroughbred in 1992, cautions that owning a piece of a racehorse isn't about getting a return on your money, as only about 20 percent of his syndicates have made a profit or broken even. "It's not an investment," he says. "Quite the contrary! This is to enjoy the horses and the experience." Shareholders, he points out, also gain access to the exclusive world of English racing, including badges for access to the Parade Ring at Royal Ascot.
Not that you can't back a winner. During the past two decades, Highclere thoroughbreds have won 6.6 million pounds in prize money, which gets divided among the horse's shareholders. A few have also generated outsize profits. Take Harbinger. Bought as a yearling in 2007 for 189,000 pounds by a 12-member syndicate, the horse went on to win almost 800,000 pounds in prize money. When the syndicate sold Harbinger in 2010 for a multimillion-pound figure, the 12 owners—who had paid just 36,500 pounds a share to cover purchase and training—pocketed 400,000 pounds each tax-free, a quirk of the U.K.'s racehorse gaming laws. And that was after Herbert's fee, which is 10 percent of the sale price of any horse sold for more than twice its purchase price.
"We manage aggressively," says Herbert, who hopes his approach and aristocratic touch may help him as he enters the high-stakes world of American racing. "It's about maximizing the value of the horses and selling them at the right time."
This story appears in the April 2015 issue of Bloomberg Markets magazine.