S&P 500 Erases 2015 Gain While Yemen Tensions Boost Crude
Jeremy Herron and Joseph Ciolli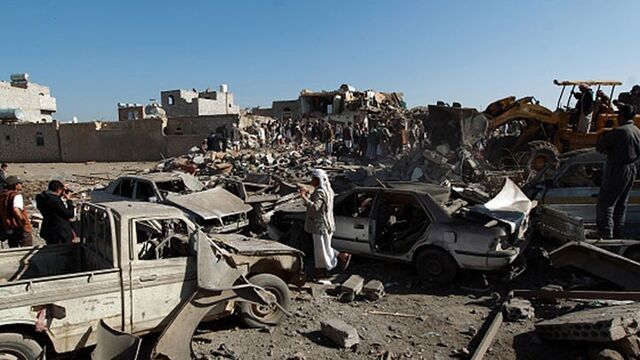 U.S. stocks fell for a fourth day in their longest slide since January, as declines in transportation shares overshadowed a rebound in technology companies. Treasuries tumbled amid weak auction demand, while oil advanced as Saudi Arabia bombed targets in Yemen.
The Standard & Poor's 500 Index slipped 0.2 percent by 4 p.m. in New York, erasing its advance in 2015. The gauge fluctuated between gains and losses throughout the session after earlier sinking as much as 0.8 percent. The Stoxx Europe 600 Index fell 0.9 percent. Yields on 10-year Treasury notes rose six basis points to 1.99 percent, while the Bloomberg Dollar Spot Index climbed 0.3 percent. U.S. crude advanced for a fifth day, and gold extended its longest rally since August 2012.
The S&P 500 has slumped 2.5 percent this week, leaving it down 0.1 percent for the year. Signs of weakness in manufacturing and the housing market have fueled concern that U.S. economic growth may be slowing at the same time analysts forecast the first contraction in quarterly earnings since 2009. Yemen has emerged as the latest ground for a proxy fight between Iran and Saudi Arabia, the world's top oil exporter.
"What we're beginning to see is a lot of investors doubting the resiliency of the market," Jeff Sica, president and CEO of advisory firm Circle Squared Alternative Investments, which oversees $1.5 billion, said by phone. "They're much less willing to step up after big selloffs. The market is overdue for a correction."
Shrinking Profits
The S&P 500 has not declined more than 10 percent since October 2011 as it begins the seventh year of a bull market. The equity benchmark slipped as much as 3.6 percent from its March 2 high before coming within 0.5 percent of reclaiming that level Friday, only to resume its slide this week.
The gauge dropped more than 3.3 percent on two separate occasions in January. It recovered the losses within a week both times.
The Nasdaq Composite Index slipped 0.3 percent to cap a fourth day of losses, the longest stretch of declines since Jan. 15. It's fallen 3.2 percent since climbing Friday to within 10 points of its dot-com-era record. SanDisk Corp. tumbled 19 percent Thursday after cutting its revenue forecast.
Companies in the S&P 500 will see profits shrink by 5.6 percent in the period, according to the median of analyst estimates compiled by Bloomberg. Alcoa Inc. unofficially kicks off the quarterly earnings season when it reports results April 8.
Mixed Data
"This selloff is going to drop us right on the doorstep of Q1 earnings, which is going to bring a bit of concern to people," Robert Pavlik, who helps oversee $9 billion as chief investment strategist at Boston Private Wealth, said in a phone interview. "There are going to be concerns about earnings and margins, and the economic news is still relatively weak."
Data Thursday showed fewer Americans than forecast filed applications for unemployment benefits last week as improved weather conditions ushered in labor-market stabilization. A report Wednesday indicated durable-goods orders unexpectedly fell in February, following data last week that showed factory production fell and housing starts slowed.
Atlanta Federal Reserve President Dennis Lockhart still favors increasing interest rates from mid-year onward despite some softer readings on growth, although he sees the stronger dollar as a headwind for the economy.
Demand at a $29 billion auction of seven-year debt slumped to the least since 2009 for a second straight day, pushing Treasury yields up from near six-week lows.
Under Pressure
Buyers backed off after a rally had raised prices following the Fed's announcement last week that it reduced its estimates for interest rates and economic growth. Lockhart said Thursday the economy can handle moving to a higher-rate environment.
"Treasuries are under pressure," said George Goncalves, head of interest-rate strategy at Nomura Holdings Inc., one of 22 primary dealers that trade with the Fed. "This love-hate relationship with the Treasury market at these low level of rates means we should expect these kinds of behavior when people don't have a really strong conviction on Treasuries."
The dollar gained the most in a week as Treasuries dropped, strengthening against 11 of 16 major currencies, including the euro, the pound and the Australian dollar.
Japan's yen advanced to the strongest level in more than a month as the tension in the Middle East stoked demand for haven assets. The Canadian dollar also climbed as crude oil rose on concern supplies could be interrupted.
Oil, Gold
Brent surged 4.8 percent to $59.19 a barrel, while West Texas Intermediate climbed to a three-week high, settling up 4.5 percent at $51.43 a barrel after earlier touching $52.48, the highest level since Feb. 18.
Gold climbed for a seventh day, gaining 0.8 percent to $1,204.84 an ounce on the spot market as the bombing in Yemen bolstered haven demand.
The MSCI All Country World Index fell for a third day, dropping 0.7 percent. Global markets reeled after Saudi Arabia led a coalition of 10 Sunni-ruled nations in air strikes against Yemen's Shiite Houthi rebels. Though Yemen contributes less than 0.2 percent of global oil output, its location near the center of world energy trade poses the potential for a disruption to shipments.
"The latest tension in the Middle East adds another geopolitical risk to the market," said Warut Siwasariyanon, the Bangkok-based head of research at Asia Wealth Securities Co. "It's extra noise that may prompt investors to reduce their risk positions."
European shares capped their biggest two-day slump since January and headed for the largest weekly decline of the year. The Stoxx 600 had rallied 18 percent this year through the end of last week on optimism that stimulus from the European Central Bank will revive the region's economy.
Before it's here, it's on the Bloomberg Terminal.
LEARN MORE