deals
Kraft Will Merge With Heinz in Deal Backed by 3G and Buffett
Craig Giammona and Matthew Boyle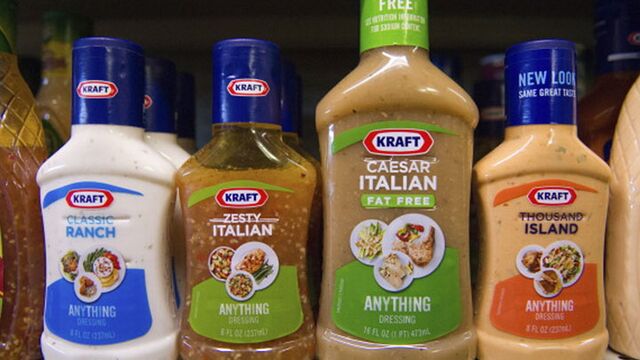 Kraft Foods Group Inc. will merge with H.J. Heinz in a deal orchestrated by 3G Capital and Warren Buffett's Berkshire Hathaway Inc., creating the third-largest food and beverage company in North America.
Kraft shareholders will receive 49 percent of the stock in the combined entity, plus a cash dividend of $16.50 a share, the companies said in a statement Wednesday. Berkshire and 3G will invest $10 billion in the deal, which values Kraft at about $46 billion, before net debt, based on its stock price Tuesday and the cash payment investors will receive.
The merger creates a stable of household names -- everything from Heinz ketchup to Jell-O -- with revenue of about $28 billion. It also could presage more consolidation in the U.S. food industry, which is struggling to reignite growth. Buffett and 3G, the private-equity firm founded by Brazilian billionaire Jorge Paulo Lemann, previously teamed up to buy Heinz in 2013 and they cut costs, a strategy they aim to repeat with Kraft.
"3G has squeezed a lot out of Heinz and now they will do the same job at Kraft," David Turner, an analyst at research firm Mintel, said in an interview. "When Buffett invests in a sector, it gives a sign that the sector is ripe for acquisitions. This will flag up other opportunities."
Stock Jumps
Kraft shares soared 36 percent to close at $83.17 in New York, the biggest one-day gain since the company split from Mondelez International Inc. more than two years ago. That gives Kraft a valuation of about $49 billion.
The final transaction value is difficult to pin down, though, because Heinz is private and it also remains to be seen at what price the new company's shares will trade. The combined business, to be called Kraft Heinz Co., will have headquarters in Pittsburgh and the Chicago area, with current Heinz Chief Executive Officer Bernardo Hees staying at the helm. The new entity also will maintain Kraft's spot as a publicly held company.
When the current Kraft was spun off in 2012, Mondelez inherited the overseas snack businesses, giving it bigger growth opportunities internationally. Though Kraft kept the name of the original business, it was smaller and relegated to the U.S. market. While Kraft has plenty of iconic brands, including Velveeta and Philadelphia Cream Cheese, the company hasn't been able to energize sales in a mature industry.
Overseas Footprint
The new combined company will be the third-largest food and beverage business in North America based on 2014 sales, behind only PepsiCo Inc. and Nestle SA, according to Heinz. With the merger, Kraft's products will benefit from Heinz's presence outside the U.S. The two companies also expect to trim $1.5 billion in annual costs by the end of 2017.
"This is my kind of transaction, uniting two world-class organizations and delivering shareholder value," Buffett said in the statement. "I'm excited by the opportunities for what this new combined organization will achieve."
Alex Behring, chairman of Heinz and the managing partner at 3G Capital, will become chairman of the new company after the closing of the deal, which is expected to happen in the second half of this year. John Cahill, Kraft chairman and CEO, will become vice chairman and run a newly formed operations and strategy committee on the board. A new executive team for the combined global company will be announced during the transition period.
Younger Consumers
Kraft management has been in turmoil in recent months. CEO Tony Vernon stepped down in December, with Cahill taking over the job. Brian Yarbrough, an analyst with Edward Jones & Co. in St. Louis, speculated at the time that Vernon was pushed out due to poor performance. The company's top finance and marketing executives also left in February, and Kraft added the role of chief operating officer.
Younger consumers in the U.S. have shown a preference for natural and organic ingredients -- something Northfield, Illinois-based Kraft has had to adjust to. In addition, rising commodity prices have squeezed the company, according to Yarbrough.
The company also had an embarrassing product recall this month after customers found metal pieces in its hallmark Macaroni and Cheese. Kraft recalled 6.5 million boxes of the product.
After Berkshire Hathaway teamed up with 3G to acquire Heinz two years ago, they helped finance another massive food purchase last year. The 3G-owned Burger King Worldwide Inc. acquired Tim Hortons Inc., a Canadian coffee-and-doughnut chain. That deal raised hackles because it relocated the merged companies headquarters to Canada, a move critics said was aimed at avoiding taxes.
Target Speculation
Since those transactions, speculation has simmered about what they'll buy next. Kellogg Co., Kraft, Mondelez and Campbell Soup Co. were all seen as targets. Buffett stoked the conversation with his annual letter to Berkshire shareholders, saying he expects to "partner with 3G in more activities."
Berkshire's cost for a common equity stake of 320 million shares in the new company will be $9.5 billion, or "a little less than $30 a share," Buffett told CNBC on Wednesday. That includes the $4.25 billion paid in 2013 for half of Heinz and more than $5 billion for the Kraft transaction, he said.
"Short term doesn't make much difference for us because we will be in this stock forever," Buffett told the business news station. "I like the brands, I like the management, and we will see over time."
His company, based in Omaha, Nebraska, also has an $8 billion preferred stake in Heinz that pays dividends of 9 percent a year.
Pizza Dispute
Berkshire has been a longtime investor in Kraft, tracing back to a stake in its predecessor company, part of Buffett's investments in well-known consumer businesses. The billionaire has acquired and held stakes in a range of dominant consumer brands, including Coca-Cola Co. In 2010, he began paring his stake in Kraft Foods Inc. -- the pre-Mondelez business -- after disagreeing with a decision to sell its pizza brands to help pay for a takeover of Cadbury Plc.
Buffett criticized then-Kraft CEO Irene Rosenfeld for the Cadbury transaction and the sale of the pizza businesses. "Both deals were dumb," he told Berkshire investors at the time. Berkshire was then the biggest shareholder of Kraft, with a stake valued at $3.3 billion at the end of December 2010.
Buffett typically looks for targets that have strong brands, simple businesses and consistent earnings power.
Job Cuts
3G, meanwhile, is known for slashing costs at its acquisitions and eliminating jobs. Kraft had 22,100 employees at the end of last year, though that number is already down almost 1,000 from two years earlier.
3G disclosed in a November regulatory filing that it is raising a fourth special-situations fund, without identifying the fund's size. A person with knowledge of the matter said earlier this year it will be about $5 billion. Kraft will have to pay a termination fee of $1.2 billion if its shareholders don't approve the deal, according to a filing Wednesday.
Bankers from Lazard Ltd. advised Heinz, while Cravath, Swaine & Moore and Kirkland & Ellis acted as legal advisers. Centerview Partners LLC served as adviser for Kraft, and Sullivan & Cromwell acted as legal adviser.
Two years after Buffett and 3G teamed up to take Heinz private, they've struck a deal that will once again make the ketchup producer a public company. With Buffett involved, the odds are better than average they'll make it work, said James Angel, a professor at Georgetown's McDonough School of Business.
"It's got all the hallmarks of a great Warren Buffett deal," he said. "It's got two closely related companies, so the synergy story is easy to tell."
(Updates with breakup fee in fourth-to-last paragraph.)
Before it's here, it's on the Bloomberg Terminal.
LEARN MORE