Yemen's Houthis Extend Advance in South After Saudi Warning
Glen Carey and Mohammed Hatem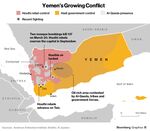 Forces loyal to Shiite rebels advanced deeper into southern Yemen, battling fighters supporting the president a day after Saudi Arabia warned it may act to restore stability in its neighbor.
Six Houthi rebels and two fighters loyal to Saudi-backed President Abdurabuh Mansur Hadi were killed Tuesday in Ad-Dali' province, about 150 kilometers (95 miles) north of Aden, the Yemeni leader's stronghold, al-Masdar news website reported.
In Taiz, another southern city seized by the Houthis at the weekend, six people were killed and dozens wounded as security forces fired on a crowd of thousands protesting the rebel advance, according to Ahmed al-Wafi, a local activist.
The violence in Yemen is threatening to escalate into civil war, increasing the risk that Saudi Arabia, the world's biggest oil exporter, will be drawn in. Saudi Foreign Minister Prince Saud al-Faisal said on Monday that Gulf countries will take "necessary measures to protect the region" from the Houthis. The erosion of government authority has already allowed al-Qaeda to take root in Yemen and use it as a base for attacks.
Prolonged Conflict
"It is not at all clear that the Houthis have the capacity to control the whole of Yemen, even if Hadi is expelled from Aden," said John Jenkins, executive director of the Middle East office of the International Institute for Strategic Studies and former U.K. ambassador to Saudi Arabia. "That is likely to lead to prolonged civil conflict."
Hadi has asked the six-member Gulf Cooperation Council, led by Saudi Arabia, to impose a no-fly zone and send troops to stop the Houthi advance, Foreign Minister Riad Yassin told Saudi newspaper Asharq al-Awsat. The Yemeni leader fled to Aden last month after weeks of house arrest by the Houthis.
Prince Saud said that Saudi Arabia is ready to host talks among Yemen's factions, while United Nations envoy Jamal Benomar, who brokered earlier rounds of negotiations, said they may resume in Qatar.
The Houthis are opposed to both options, spokesman Mohammed Abdulsalam said on Facebook on Tuesday. He accused both countries of supporting and funding al-Qaeda and inciting sectarian conflict in Yemen.
Top Priority
The UN Security Council on Sunday urged the Houthis to lay down their arms and return to talks. Hadi wrote to the council on Tuesday urging it to go further and adopt a binding resolution authorizing "all willing countries" to take any necessary measures, including military intervention, to stop the Houthis' aggression, according to a copy of the letter.
The Saudis and their allies among the Sunni Muslim monarchies of the Persian Gulf support Hadi and say Iran is behind the rise of the Houthis, who advanced from their base in north Yemen to capture the capital, Sana'a, last year. The Houthis, who have been targeted by al-Qaeda attacks, accuse Hadi and his Gulf supporters of encouraging the jihadists.
"Finding a resolution to the violence, political uncertainty and ascendancy of the Houthis in Yemen may very well be at the top of Saudi Arabia's priorities," said Fahad Nazer, a political analyst at JTG Inc. in Virginia. "Unrest in Yemen has always adversely affected Saudi Arabia."
Before it's here, it's on the Bloomberg Terminal.
LEARN MORE