Unprecedented Afghan Protest After Woman Killed Over Koran
Eltaf Najafizada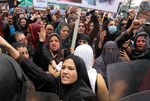 Several thousand Afghans took part in an unprecedented protest in Kabul Tuesday to demand the prosecution of the people who killed a female religious scholar after false allegations she had burnt a Koran.
Farkhunda, 27, died March 19 after a mob beat, stoned and ran over her with a car near a popular shrine in the Afghan capital. Her body was thrown into a river and set ablaze in the presence of policemen.
"We will turn to violent demonstrations unless the government prosecutes the culprits and policemen who enjoyed watching her killing," said Najia Ahmadi, a female demonstrator. Participants chanted "Death to the killers!" and "Justice for Farkhunda!"
Afghan police haven't found evidence that Farkhunda burnt a Koran, Interior Minister Noor-ul-Haq Ulumi told parliament Monday. Twenty-eight people suspected in her murder have been arrested and the search for others continues, he said in an e-mailed statement Tuesday.
Thirteen police officers who failed to stop the killing have been suspended, Ulumi told parliament. Hashmatullah Stanekzai, a Kabul police spokesman who praised the murder on Facebook, has been dismissed, Ulumi said.
About 3,000 men and women marched on the nation's Supreme Court in today's protest, the second day of demonstration against the killing. Mahmood Nadim, an organizer of the protests, called them "unprecedented" in Kabul's history.
Break From Tradition
According to demonstrators today, Farkhunda had argued with a mullah about charms he sold to women at the Shah-e-Doshamshera shrine in Kabul, saying they promoted superstition.
In reply, the mullah told people that Farkhunda had burnt a Koran, according to demonstrator Noor Alam Nawabi, 28.
Like many Afghans, Farkhunda went by only one name.
Afghan President Mohammad Ashraf Ghani has set up a commission to probe the killing. The former World Bank economist, who publicly praised his wife in a break from Afghan tradition after his election win, said 3 million Afghan girls are now studying in schools aspiring to greater achievements and careers.
"Hopefully one day we'll see an Afghan woman president," Ghani said at a press conference in Washington on Tuesday. "It should not be too far."
Farkhunda was buried March 22 in a ceremony attended by hundreds of people in Kabul. Women carried her coffin to the grave, an act typically performed by men.
Before it's here, it's on the Bloomberg Terminal.
LEARN MORE