Toys 'R' Us Seeking to Ward Off Discounters by Adding Play Space
Matt Townsend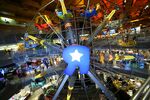 Toys "R" Us Inc., following years of losing ground to online rivals and discount chains, plans to revamp its stores to be places where kids come to play.
The company, which was taken private almost a decade ago by Bain Capital Partners, KKR & Co. and Vornado Realty Trust, will open a new prototype store this year, Chief Executive Officer Antonio Urcelay said at an event on Tuesday in New York. The goal is to eventually make all of its locations more engaging places for children than Wal-Mart Stores Inc. or Target Corp., he said in an interview.
The company will add more technology for kids to interact with, and additional floor space will be devoted to play areas. That in turn may coax parents into doing more shopping at the stores. It also will decrease the need to compete on price in an increasingly cutthroat toy industry.
"It has to be something where kids want to go and play," said Urcelay, who was promoted to CEO in October 2013 after running the company's European division. "We have to reinforce that we are a specialist."
For years, Toys "R" Us has been hurt by the ability of Wal-Mart and Amazon.com Inc. to undercut it on price. Urcelay has reduced the amount of discounting, though the chain does offer price matching and works to keep the best-selling toys in stock. The approach is beginning to pay off, Urcelay said. Even though sales fell in the fourth quarter, the company's gross margin improved.
"Our strategy is to look for profitability, not just sales growth at any cost," he said.
Public Offering
Urcelay predicts that his turnaround will take one to two more years. Previous attempts at a comeback have faltered, making it difficult for the chain's private-equity backers to see a return on their investment. The company canceled an initial public offering in 2013 after results worsened. It replaced Jerry Storch as CEO that year.
Urcelay said his executive team is concentrating on improving the business -- not when or how the company's owners can exit their investment.
In Urcelay's first year, the retailer focused on improving its U.S. stores by speeding up checkout lines, cleaning locations more often, adding signs and brightening the lights. While same-store sales still fell 1 percent last year, that was an improvement from a drop of about 5 percent in 2013.
Those enhancements will be expanded to more locations this year, according to Hank Mullany, president of U.S. stores. The company also will be rolling out mobile devices to staff, letting employees offer more product information and expertise to customers -- another attempt to stand out from Wal-Mart and Target.
Baby Chain
The Babies "R" Us chain, meanwhile, will add more workers to boost customer service, which the company acknowledged had been lacking.
While Toys "R" Us tries to stabilize the performance of its physical stores, it expects e-commerce to be its long-term growth engine. Online sales rose 6.8 percent to $1.23 billion last year, compared with a 1.5 percent drop to $12.4 billion for total revenue.
Urcelay said the the company hadn't renewed the lease for its flagship store in New York's Times Square, where Tuesday's event was held, because it didn't want to enter an arbitration that would have lease negotiations out of its hands. Toys "R" Us is still in talks with its landlord and, if it doesn't stay at its current location, it will look for another one in Manhattan, he said.
While the company has continued to post net losses, its adjusted earnings before interest, taxes, depreciation and amortization -- a measure of operating performance -- have improved. Profit by that measure rose 10 percent to $642 million last year. The a company has a heavy debt load, including $451 million in interest costs last year, which weighs on its net losses.
"We progressed a lot," Urcelay said. "But there are still a lot of things to do."
Before it's here, it's on the Bloomberg Terminal.
LEARN MORE