Ted Cruz: Bush Will 'Shatter Every Fundraising Record'
But the Texas senator says he still will raise enough money to compete.
By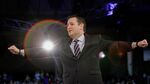 Senator Ted Cruz admits he doesn't have a hope of beating Jeb Bush—in the fundraising game.
"Nobody is going to manage to keep up," the Texas Republican told ABC News in an interview that aired Tuesday. "He is going to shatter every fundraising record that's ever been set. He set the goal of $100 million this first quarter. My guess is he blows past that goal. He ends up raising way more than $100 million."
Cruz, who announced his candidacy on Monday, has set a goal of raising $50 million for the primary but has weaknesses in grassroots fundraising. He will need at least $30 million to compete, aides say, but the larger number would put him ahead of a number of other likely Republican contenders including Kentucky Senator Rand Paul and Wisconsin Governor Scott Walker, but still far behind Bush. The former Florida governor has not officially entered the race but who has dominated fundraising, leaving likely challengers to subsist on a smaller pool of big-money donors.
Cruz, who began a fundraising swing following the speech, didn't count himself out, though. He reportedly raised $500,000 in his first official day as a candidate and could nail down an additional $1.5 million at a March 31 fundraiser.
"On the money side, we're going to surprise a whole lot of people," he told ABC. "The support we've seen we're seeing on the money side has been incredibly, both small dollar donations that are pouring in… . We're seeing heavy hitters supporting financially also."
Cruz, a strident conservative who spent much of Tuesday saying he was ready to compromise, said Bush's fundraising power wouldn't necessarily matter when the votes were counted.
"Elections are actually decided by real, live people," he said.