Stifel: S&P Could Rise to 2350
It's too soon to call a market top
by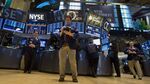 Stifel analyst Barry Bannister is telling clients that it's "far too soon to call a market top" and the S&P 500 could soar to 2,350. 
"We do not observe the complacency, euphoria or interest rate and yield curve levels normally associated with S&P 500 tops," Bannister said in a note sent to clients yesterday. "We see deflation risk to EPS dissipating as the dollar shows signs of a top, the result of Fed caution and foreign growth exceeding investor expectations. If this feeds the reflation (without harmful inflation) case, we believe a late bull market P/E over-shoot to our 2,350 view for the S&P 500 is possible."
Here is summary of his points calling for more than an additional 10 percent rise in the market. 

Stifel sees flat 2014 to 2015 operating EPS in the S&P 500, but expects to see P/E ratios rise in the second half of this year and 2016 due to rising confidence in reflation and an improving global situation.

Bannister also notes that if you take out the energy sector, EPS in the S&P 500 is holding up. He says that global GDP is going to accelerate, and that things will improve in the energy and cyclical sectors as the dollar moderates. However, this is dependent on a slow-moving Fed as well as expected payoffs from the European Central Bank and Bank of Japan QE programs and Chinese growth stabilizing. 

The S&P 500 is up 13.3 percent over the past year, and is just above 2100 currently.

Before it's here, it's on the Bloomberg Terminal.
LEARN MORE