Sharp's 2-Year High Shorts Show Foxconn Rescue Doubts Linger
Tim Culpan and Grace Huang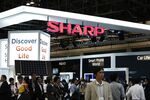 Bets against the shares of Sharp Corp. rose to the highest level since 2013 this month as the debt-strapped supplier to Apple Inc. considers whether to continue rescue talks with Foxconn Technology Group.
The number of shares held in Japanese margin-trading accounts that profit if Sharp falls remained above 28 million Tuesday, compared with fewer than 1 million a year earlier, according to Japan Securities Finance Co. daily data. Speculators have kept the bets, which win when shares decline, even as reports the company will extend Foxconn talks helped boost the stock 9 percent during the five days to Tuesday.
Sharp, headed for its third annual loss in four years, has said it's considering drastic reform and will disclose a medium-term management plan in May. The maker of displays for smartphones and tablet computers has sought an investment from Foxconn, a key assembler of Apple products, while talks have foundered over disagreements on price and the Taipei-based company's possible role.
"I haven't included a Foxconn investment in my current projections," said Hideki Yasuda, an analyst at Ace Research Institute in Tokyo. "Foxconn, which is run by its founder, will insist on being involved in management. Sharp does not want this to happen."
Share Slump
Sharp dropped 2 percent to 249 yen as of the close in Tokyo trading, widening this year's decline to 7.1 percent. The benchmark Topix index gained 0.3 percent today and is up 13 percent in 2015.
Yasuda is the top analyst covering Sharp, according to Bloomberg Absolute Return Rankings, and has an underperform rating on the shares. He doesn't have a price target for Sharp. Among 16 analysts tracked by Bloomberg, nine recommended selling the stock, seven are neutral and none recommend buying.
Short interest, or contracts through which speculators borrow shares and sell them in expectation of buying them later at a lower price, reached 29.9 million shares earlier this month, the highest since 2013.
Sharp forecasts a 30 billion-yen ($251 million) net loss for the 12 months ending next week as its Aquos TVs lost market share to those from Samsung Electronics Co., LG Electronics Inc. and lower-cost makers based in China.
Foxconn "is still exploring investment and partnership opportunities with Sharp," the company said Tuesday in an e-mail, reiterating a March 20 statement. "Any such investment would have to be based on mutually beneficial outcomes, in particular, whether Foxconn will have the right to participate in business management."
Debt Swap
Options being discussed by the companies have included a debt-for-equity swap, people familiar with the talks said earlier this month. Sharp President Kozo Takahashi was to meet with lenders Mitsubishi UFJ Financial Group Inc. and Mizuho Financial Group Inc. on March 5, said one of the people, who asked not to be identified because the discussions are private.
Miyuki Nakayama, a spokeswoman for Sharp, declined to comment on the level of short interest in the company's shares.
Sharp reported about 724 billion yen in net debt in its latest filing, according to data compiled by Bloomberg. That compares with net cash of NT$156 billion ($5 billion) for Hon Hai Precision Industry Co., Foxconn's Taiwan-listed electronics assembler, the data show.
Emblematic Decline
The Osaka-based company, named after the Ever-Sharp mechanical pencil its founder invented and marketed in 1915, is emblematic of the broader decline among Japanese consumer-electronics companies in the face of lower-cost competitors. The nation's device makers also lost out as consumers dedicated more of their spending to mobile devices, including Apple's iPhones and iPads.
Sony Corp. forecast a 170 billion yen loss in the 12 months ending March, its sixth annual deficit in seven years, after writing down the phone unit and restructuring TVs to focus on camera components, video games and movies. Panasonic Corp., once the largest maker of plasma sets, exited that business and is focusing on batteries, solar panels and the electronics used in cars.
The possibility of a debt-for-equity swap was reported March 3 by Nikkei, which didn't say where it got the information. The newspaper also reported that Sharp's net loss for the 12 months ending this month may reach 100 billion yen. The company shut its Mihara chip plant and exit its solar business, according to the Nikkei.
Standard & Poor's on March 3 cut its credit rating on Sharp to CCC+, which is seven levels below investment grade. The rating service has a negative outlook on Sharp, citing the increasing chance of a debt-equity swap that it would view as a selective default.
Before it's here, it's on the Bloomberg Terminal.
LEARN MORE