One More Question on Hillary Clinton E-Mails: Where Was the Watchdog?
Inspectors General uncover waste, fraud and mismanagement in federal agencies. The State Department didn't have an official one while Hillary Clinton worked there.
By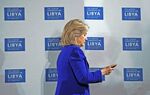 One of the many unanswered questions of the Hillary Clinton e-mail story has been: Whose job was it to raise and address concerns about her exclusive use of a private account? According to open government advocates, it would have been the agency's permanent, independent Inspector General—someone nominated by the president and confirmed by the Senate—if such a person had existed.