No Loretta Lynch Confirmation Vote in Sight as Senate Nears Break
Kathleen Miller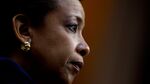 The U.S. Senate is days away from a two-week spring break with no agreement to vote on confirming U.S. attorney general nominee Loretta Lynch, almost five months after President Barack Obama nominated her.
Senate Majority Leader Mitch McConnell, a Kentucky Republican, reiterated Tuesday that Lynch's confirmation won't come up until senators resolve a fight over an anti-human-trafficking bill. Democrats are blocking a vote because they object to Republican language in the measure to ban most abortion funding.
"I continue to hope that we can get past the dilemma that you all witnessed on the trafficking bill" and then vote on the Lynch nomination, McConnell told reporters in Washington.
The Senate is using this week to debate and vote on its budget proposal. After this week, Congress plans to take a break until April 13. President Barack Obama announced Lynch's nomination on Nov. 8 to replace Attorney General Eric Holder, and McConnell had planned a confirmation vote last week.
"I feel so bad that she's caught up in this matter," Republican Senator Orrin Hatch of Utah, who supports Lynch's confirmation, said Tuesday. "But I don't blame our side for being upset that we can't seem to pass a trafficking bill to help our young women and young men."
Democrats contend that Republicans shouldn't add anti-abortion language to the human-trafficking measure, which otherwise would have bipartisan support.
'Earthly Reason'
"We're as disappointed as we can be," Democratic Senator Ben Cardin of Maryland said in an interview Monday. "There hasn't been one earthly reason given" by Republicans for linking Lynch's confirmation to an agreement on the trafficking bill.
Obama and other Democrats have accused McConnell of holding Lynch's confirmation hostage for political reasons. The delay also has a downside for Republicans because Holder, widely criticized by members of that party, is still on the job.
"The continued delay is unconscionable," Josh Earnest, the White House press secretary, said Monday during a press briefing. "While she waits for her confirmation, Attorney General Eric Holder continues to work very diligently in that office to advance the cause of justice and to use every lever in that office."
The Senate Judiciary Committee approved Lynch's nomination Feb. 26 on a 12-8 vote. Three Republicans, Hatch, Lindsey Graham of South Carolina and Jeff Flake of Arizona, joined all nine of the committee's Democrats in favor. Republican Susan Collins of Maine also backs Lynch's confirmation.
Republican Control
Republicans have controlled the Senate 54-46 since January. The backing of four Republicans means Lynch needs at least one more -- or Vice President Joe Biden to break a tie -- if all 46 Democrats back her as expected.
Holder, who has said he will stay in the job until Lynch is confirmed, has clashed with Republican lawmakers over issues including a law enforcement operation to crack down on gun-smuggling on the U.S.-Mexico border as well as Justice Department challenges to states' voter-identification laws.
Republican Senator Shelly Moore Capito of West Virginia said in a statement Tuesday that she won't support Lynch because she's not confident that Lynch will "exercise the independence needed to stand up for the proper separation of powers."
An attorney general should be capable of "pushing back when the executive branch overreaches," Capito said.
Senator Patrick Leahy of Vermont, the top Democrat on the Senate Judiciary Committee, criticized Republicans who are using the stalled trafficking legislation as a reason to delay the Lynch vote.
Fighting Trafficking
Lynch has said that fighting human trafficking would be one of her top priorities as attorney general, Leahy said in a statement.
"And now, in the name of supporting human trafficking victims, Senate Republicans are blocking her nomination," he said. "That makes no sense."
Lynch, who has served twice as U.S. attorney in Brooklyn, would be the first black woman to serve as the nation's top law enforcement official.
Some of Lynch's backers have suggested a racial component to the deferred vote. Senator Richard Durbin of Illinois, the second-ranking Democrat in the chamber, said in a March 18 floor speech that she "is being asked to sit on the back of the bus when it comes to the Senate calendar."
Obama has become increasingly critical of Senate Republicans.
Holding 'Hostage'
"You don't hold attorney general nominees hostage for other issues," Obama said in an interview published March 20 by Huffington Post. "This is our top law enforcement officer. Nobody denies that she's well-qualified. We need to go ahead and get her done."
Most Republicans oppose Lynch or have said they are undecided about whether to support her.
"I will do everything I can to see that she doesn't get the confirmation," Republican Senator John McCain of Arizona said in an interview last week.
"Holder is already here, I can't do anything about that," McCain said. "I can't impeach him."
While praising her legal career, Republicans also criticized her for testifying that Obama's actions on immigration were legal. Obama decided in November to temporarily defer deportations for about 5 million undocumented immigrants in the U.S.