business
The Place Where China Began Its One-Child Policy Is Dying
Adam Majendie, Kevin Hamlin and Xiaoqing Pi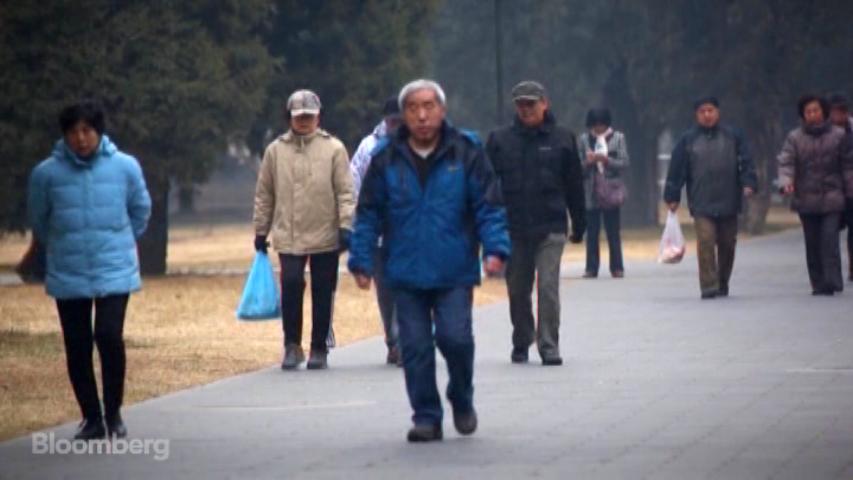 Sitting in her neighbor's, house playing cards, 58-year-old farmer Si Jinxin asks a question that is troubling millions of China's workers: "What are we going to do when we're old?"
Si comes from a rural county on the east coast that will have to answer that question first — Rudong. It was here, half a century ago, that China began its one-child policy, a political drive to curb overpopulation that may end up sapping the country's workforce and leaving millions of old people with no one to look after them.
"Rudong was so good at implementing the family planning policy," says Si, whose only child, a daughter, lives about 200 kilometers (124 miles) away in the city. "Now we're the ones who lose."
On the flat delta of the Yangtze River north of Shanghai, Communist cadres embraced the call to stem the nation's ballooning population a decade before it became national policy in 1979. The result is that Rudong is a window on China's future, a windswept place of old people, closed schools and growing retirement homes.
"China will see more places like Rudong very soon," said Wang Feng, a professor of sociology at the University of California at Irvine. "It's a microcosm of the rapid demographic and economic transformation China has been experiencing the last decades. There will be more ghost villages and deserted or sleepy towns."
Getting Old
China's getting old just as Premier Li Keqiang is grappling with a structural slowdown in the economy. Li this month set a growth target for 2015 of about 7 percent, which would be the weakest expansion since 1990, amid a property slump and excess industrial capacity.
The nation's pool of workers between age 15 and 59 is expected to shrink by 61 million by 2030, according to the United Nations. That's about the equivalent of losing the combined working populations of the U.K. and France.
With fewer workers and more pensioners, average growth will drop below 4 percent by then, said Yi Fuxian, author of "A Big Country with an Empty Nest," which criticizes the one-child policy.
"China is quickly turning gray on an unprecedented scale in human history, and the Chinese government, even the whole Chinese society, is not prepared for it," Yi said. "In many places, including my hometown in western Hunan, it's hard to find a young man in his 20s or 30s."
172 Centenarians
In Rudong, almost 30 percent of the county's 1 million people are over 60, the highest rate in the country and almost double the national average, according to local government data. Among them are 172 registered as more than 100 years old.
In the county's township of Juegang, Tang Ruiying set up a kindergarten in 2001 and enrolled about 400 students, competing with three other schools. Now she has about 240 children.

"Rudong has a lot of people in their 60s, 70s," Tang said. "It's going to be very hard for the only children when we get older. How will they take care of the elderly?"
Tang, 65, was one of five siblings. She has one 40-year-old daughter, who has one 15-year-old son. She's asked her daughter to stop using contraception so she might have a second child.
As in most of rural China, the absence of youth is also tied to a migration of workers to the cities over the past two decades.
Shanghai, a two-hour drive south of Rudong, saw its population rise to more than 24 million in 2013, despite having one of the lowest urban birthrates in the world.
Migrant Millions
Among the city's ranks are almost 10 million migrants, according to the local government. In 2002, Shanghai had 16 million residents, including 2.7 million migrants.
In Beijing, the government aims to cap the population at 23 million by 2020 because of the dwindling water supply.
As men and women across China headed to the cities to find work, many left their children in the care of grandparents. "Liushou ertong," literally left-behind children, has become a common phrase.
Tang said four out of five of the children at her school in Rudong are ferried there and back by a grandparent, often on an electric motorcycle. She offers parenting courses and festival events targeted at the older caregivers.
"Grandparents pamper the kids too much," she said. "An only child is a little princess or little emperor, so the first lesson for grandparents is to say no, to refuse the unreasonable demands."
More Soldiers
It's a far cry from when the Communists took power in 1949 under Chairman Mao Zedong. Mao encouraged families to have as many children as possible, arguing that the country needed workers for its fields and factories, and soldiers for its army.
As the country added 260 million people over the following two decades, that policy began to shift as factions in the leadership became concerned that overpopulation would exhaust the nation's resources and stunt economic growth. Local cadres in Rudong were among the first to react, encouraging the use of birth control and abortion to limit family size.
"We had to implement a birth planning policy," said Xu Shousheng, Communist Party chief of Hunan province, who was born in Rudong and was elected party secretary of the county in 1990. "It was consistent with our situation" at the time.
For those who complied there were rewards: Housing plots and farmland could be doubled in size, and there was a 40-yuan bonus each year for single-child families, according to Zhu Meiying, 70, who led the family planning campaign in the Rudong township of Huafeng from 1971 until about 2005. Those who failed to follow the party line were harassed, fined and censured.

Party Call
"We answered the call from the party — only one child is good," Zhu said. "We worked day and night."
Zhu, whose only son was born in 1972, recalls one case of a pregnant woman who fled to an aunt's house and locked herself in to escape the authorities.
"The officials stood at the window of her aunt's home, talking to her in the freezing winter," Zhu said. "After hours of talk, the woman climbed out of the window and agreed to go to the birth committee's hospital and abort the baby."
Zhu said the woman's husband was "mentally unstable" and was plied with alcohol and peanuts — his favorite snack — until he was drunk and agreed to the abortion.
As the rest of China began to adopt the one-child policy, officials looked to Rudong as an example, she said. In 1976 she was invited to represent the pioneering county at a family planning conference in Shanghai.
Falling Fertility
From 1971 to 1978, Rudong's fertility rate halved, from about 25 births per 1,000 people to about 13, she said.
There was no escape, said Jiang Buying, 59, who owns a residential home for the elderly in Dingjiadian village.
"If you fled to Shanghai, they would chase you to Shanghai. If you fled to Beijing, they would chase you to Beijing," Jiang said. Women pregnant with a second child would be fined or even have their homes seized, she said.
The result today is an ever-growing number of homes for the elderly, like Jiang's, which she founded in 2012 with four beds. There are now 80 beds in four buildings, with residents as old as 95 huddled in layers of thick clothing against the cold.
Rudong has about 40 retirement homes. The local municipality of Nantong, which administrates Rudong, says it will add an additional 4,000 beds this year. China's official retirement age for men is 60 and for women as low as 50.
Ingrained Ideology
Even with China's workforce shrinking, the ruling Communist Party has been loath to abandon an ideology ingrained in citizens' minds for decades. The government only relaxed the rules as part of President Xi Jinping's policy blueprint announced in late 2013. Now couples where either parent is a single child are allowed a second baby, in addition to long-standing exceptions, such as minority groups.
It may be too little, too late.
Of China's 1.36 billion people, only 11 million couples qualify for a second child under the new rules, and just 690,000 of those had applied to do so by the end of August, according to data from the family planning commission.
"People have already embraced the idea of fewer babies," said Tang, the kindergarten owner.
In a society taught for a generation to regard large families as decadent, and where the cost of raising a child has soared, the crude birthrate continues to decline. It will hit 12.2 births per 1,000 population between 2015 and 2020, from 13.4 in the previous five years, according to UN estimates.
Too Slow
"China has been moving too slowly," said Wang, the sociology professor. "What we have seen so far are more slogans than actions."
With rising wages and aspirations, couples like Kitty Mao and her husband say they don't want a second child anyway because it's too expensive.
"We want to give the baby the best," said Mao, 35, shopping in a Rudong supermarket for milk powder and other groceries while her partner held their 2-year-old son. She said the boy costs as much as 30 percent of the family's income, and the mortgage eats up an additional 40 percent.
And she worries about how much it will cost to care for her parents.
"Now they're healthy," she said. "When they get older and less healthy, the pressure on us will be huge."
The altered attitude toward children has percolated through to every area of society. At Xingge Wedding Photography in Rudong, fewer young people means fewer weddings and the need to find other sources of revenue, said manager Zhao Sheng, 35.

Little Emperors
In step the pampered little emperors and princesses.
"People with single children are willing to choose more expensive and better-quality photos," said Zhao, who is expanding his business with group family portraits for migrant workers who return to Rudong from the cities during the holidays. "They couldn't care less about costs."
In an effort to tackle the burden of the growing ranks of pensioners, China has tried to build a state pension system almost from scratch. Since 1997 the country has introduced contributory pensions for more than 800 million people across the country.
"We can promise this to the elderly: They will be taken care of when they are old, and they can get medical care when they are sick," said Xu, the head of Hunan province and a member of the National People's Congress. "Everybody will get the care they deserve."
The state pension funds face "huge pressure" in making ends meet in the future, Human Resources Minister Yin Weimin said at the congress meeting this month.
Aging World
The pressure isn't just on China. By 2050 the ratio of workers to retirees in many developed countries will be lower than China's, including Japan, the European Union, South Korea and Singapore. Even developing nations like Thailand and Brazil are beginning to feel the pain.
In 2050 there will be at least 2 billion people in the world who are over 60, more than double the number now, according to a 2013 UN report (PDF). They will outnumber children, and almost 400 million of them — more than the current population of the U.S. — will be over 80.
What's different in China is that the one-child policy accelerated the process, removing hundreds of millions of potential babies from the demographic pool. China's old-age dependency ratio — a measure of those age 65 or over per 100 of working age — is set to triple by 2050, to 39.
Health Fears
Older citizens like Zhang Kefei have become frightened that there will be no one around in an emergency. The 80-year-old moved into a government-subsidized home in Juegang that has a hospital on the ground floor because his 49-year-old daughter, who works at a local bookstore, is too busy looking after her own family.
"I have emphysema, asthma and heart disease, and I was always at home alone," he said, sitting near a blue oxygen bottle beside his bed. "What if my daughter didn't take my call? What if she didn't take the phone with her?"
Meantime, Rudong is making a belated effort to unwind half a century of encouraging birth control and hounding women to abort children. Last year the local family planning committee introduced a new slogan for the county's billboards and banners: "Encourage eligible couples to have another child and enhance the long-term balanced development of Rudong's population." —With Zhou Xin
For more, read this QuickTake: China's Pain Points
Before it's here, it's on the Bloomberg Terminal.
LEARN MORE