Nigeria Election Victor Will Find Economy a Poisoned Chalice
Chris Kay and Paul Wallace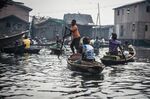 In his wooden shack built on stilts above the black polluted water of Lagos lagoon, Afia Theodorh said he's struggling to pay school fees for his five children as costs for his food grinding business rise.
"This year it has become hard," Theodorh, 52, said over the rumble of his machines crushing corn and tomatoes into pulp as he sat with his family in the waterside slum of Makoko in Nigeria's commercial hub. "Before, things were cheaper."
Nigerian businesses from small operations like Theodorh's to corporations run by Africa's richest man, Aliko Dangote, are being battered by a weak naira and low oil prices before elections on March 28 that analysts expect to be the closest since the end of military rule in 1999.
Whether President Goodluck Jonathan, 57, secures re-election or his main rival, former military ruler Muhammadu Buhari, 72, wins, the next leader of Africa's top oil producer will find public finances squeezed and much needed capital infrastructure projects frozen.
"As a major exporter of oil, Nigeria will face tough times ahead," Giulia Pellegrini, a sub-Saharan Africa economist at JPMorgan Chase & Co., said by phone from London. "Whoever wins will have to recalibrate their policies to this new reality."
Oil Slump
With a 50 percent slump since June in prices for oil, which provides two-thirds of government revenue and 90 percent of foreign income, the naira has lost 18 percent against the dollar in the past six months, the steepest decline among 24 African currencies tracked by Bloomberg. The International Monetary Fund cut its 2015 growth forecast for Nigeria to 4.8 percent, about half the average rate over the past 15 years.
Standard & Poor's downgraded the country on March 20 one level to B+, four levels below investment grade.
The downturn has struck across the social divide of Africa's largest economy. Nnanna Agbaso, owner of three Grand Cantina Wine & Spirits stores in the upmarket Victoria Island and Lekki districts of Lagos, home to some of the most expensive real estate in Africa, will have to raise prices as much as 13 percent for his next shipment of Italian wine and Prosecco.
"With oil prices dropping and the political uncertainty, everyone is being very careful with their expenditure," the 29-year-old Harvard educated Agbaso said in an interview. "When times aren't good, people wonder whether they really need a fancy bottle of wine."
Billionaire Loses
At the top, Dangote, who controls Africa's biggest cement maker and has interests in food, oil, salt and sugar, has lost $5.3 billion of his fortune this year, more than anyone else globally, according to the Bloomberg Billionaires Index. He's now worth $13.1 billion and ranks 79 out of 400 tracked by the index.
In import-dependent Nigeria, a weaker currency means higher prices of goods ranging from mobile phones to food. Inflation will probably accelerate to 10 percent or more in the second half of this year because of a weaker naira, Razia Khan, head of Africa economic research at Standard Chartered Plc, said in a March 17 note. Prices climbed for the third consecutive month in February by an annual rate of 8.4 percent.
Foreign Investors
Foreign investors have also felt the impact. South Africa's Tiger Brands Ltd., which bought a majority stake in Dangote's flour milling business three years ago, doesn't expect to turn a profit from its Nigeria operation until 2017.
"We anticipate more challenging times rather than less challenging times," Chief Executive Officer Peter Matlare said on a conference call last month.
Nigeria's economic turbulence is being amplified by continued attacks by the Islamist militant group Boko Haram and a tight election battle. Jonathan's ruling People's Democratic Party faces Buhari's All Progressives Congress, formed by the merger of the main opposition parties. For the first time since the end of military rule, there's a chance the PDP will lose power, with both candidates level at 42 percent support in a December poll by Afrobarometer.
The parties have promised to boost spending on health care and security, increase employment and improve access to education.
Oil Dependent
Yet the new government will find its room for maneuver limited. Nigeria's source of government income isn't diversified enough away from oil, Finance Minister Ngozi Okonjo-Iweala said last month. Domestic debt will rise to meet the shortfall and pay salaries of government employees, she said.
Cuts to Nigeria's budget may force the government to freeze 85 percent of road projects, with no money for maintenance, Minister of Works Mike Onolememen told lawmakers in the capital, Abuja, on March 9. This year's proposed budget will reduce capital spending for the public works ministry to 11 billion naira ($55.1 million), down from 98 billion naira last year, he said.
The oil-price shock may be a "blessing in disguise" if it forces fiscal and economic reforms, said Kingsley Moghalu, a former deputy governor at Nigeria's central bank.
"It's a resource curse," Moghalu, who will take up a post in July as professor of international business and public policy at Tufts University in Medford, Massachusetts, said by phone from Washington. "I would like to think we learnt from the oil price crash of 2008. Maybe I was too optimistic."
Government Corruption
Many Nigerians are skeptical that the politicians are interested in turning around the economy in a country with a reputation of endemic graft. Nigeria is ranked 136 of 175 countries in Transparency International's 2014 Corruption Perceptions Index, on par with Russia and Iran.
On a Sunday evening this month at the warehouse sized New Afrika Shrine music venue in Lagos, Femi Kuti, the musician and son of the late Afrobeat pioneer and political activist Fela Kuti, said corruption is Nigeria's biggest affliction.
"There are many roads in Lagos that are not repaired," Kuti said in between performing songs such as "Politics Na Big Business". "There is corruption and stealing at all levels of government."
In the Makoko slum, Noah Shemede, headmaster of the local Whanyinna Nursery and Primary school, said politicians visit poor communities during election campaigns and are usually not seen again.
"During the elections they find their way in, but afterwards, you never see them again," he said. "All their plans and promises fail. People here hate them."
Before it's here, it's on the Bloomberg Terminal.
LEARN MORE