NFL Approves Medical Timeouts
Erik Matuszewski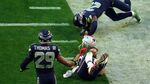 The National Football League approved a rule that allows an off-field official to call a medical timeout if a player shows symptoms that warrant evaluation under the league's concussion protocol.
The new rule comes after New England Patriots wide receiver Julian Edelman looked dazed after a helmet-to-helmet hit during the Super Bowl and stayed in the game.
There are independent certified athletic trainers at NFL stadiums on game day who help both team medical staffs identify players in need of evaluation. With a vantage point in a booth above the field, they can now stop the game and communicate with on-field officials if a player appears disoriented.
"We do not expect this to be a rule that gets used a lot," said Atlanta Falcons president Rich McKay, chairman of the NFL competition committee. "We expect it to be a fail-safe when people just don't see this player and the distress the player may have had."
The trainers in the booth, who have access to video replay and multiple angles of a specific play to identify possible head injuries, have previously communicated with team trainers and doctors on the sidelines under NFL concussion protocol.
The change was one of a series of safety enhancement rules approved by the NFL at its league meetings in Phoenix.
"Really it came a little bit from the health and safety committee just saying, 'We got the ATC spotters, they've got a really good vantage point, they've got technology in their booth, they're communicating pretty well with our trainers and doctors,'" McKay said. "We've got a pretty good rhythm going there, why would we miss a player where a player shouldn't come out?"
Before it's here, it's on the Bloomberg Terminal.
LEARN MORE