Morgan Stanley Cuts Commodities Outlook on China Demand
Sungwoo Park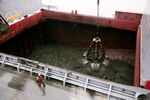 Morgan Stanley cut its price forecasts for almost all base metals and bulk commodities as China's "dormant" industry fails to bolster demand in the world's biggest consumer of copper and iron ore.
The bank reduced its 2015 estimate for nickel by 23 percent from its previous estimate to an average $14,815 a metric ton and lowered copper by 16 percent to $5,945 a ton. It cut its iron ore outlook by 28 percent and coking coal by 16 percent. Industrial metals will perform better than bulk commodities as growth in developed countries supports demand, analysts Tom Price and Joel Crane said in a report on Tuesday.
Commodities are extending their biggest annual slump since 2008 as a collapse in oil prices and the strengthening U.S. dollar reduce the cost of production and as China's slowing economy saps consumption. The Bloomberg Commodity Index of 22 raw materials touched the lowest in more than 12 years on March 18. Goldman Sachs Group Inc. this month predicted a 20 percent drop in global raw-material prices over six months.
"With only months left before the mid-year peak in sales of commodity-intensive goods, time is running out for China to support commodity prices in 2015," the Morgan Stanley analysts wrote in the report. "Instead of delivering its reliable first-quarter seasonal expansion in trade, China's metal processing industry remains dormant."
China, which last year reported the slowest economic growth in more than two decades, has flagged increasing headwinds that include a property slump and excess industrial capacity. Steel production in the world's largest producer will contract 0.5 percent this year, Morgan Stanley said.
Manufacturing Contraction
Economic stimulus including two interest-rate cuts in three months and the removal of property restraints has yet to revive growth as Premier Li Keqiang sets the lowest target in more than 15 years. That's a drag on demand for commodities that are mired in oversupply after a decade-long bull market spurred farmers, miners and drillers to boost output.
A preliminary Purchasing Managers' Index from HSBC Holdings Plc and Markit Economics fell to an 11-month low of 49.2 in March, data showed on Tuesday. That missed the median estimate of 50.5 in a Bloomberg survey and is down from February's 50.7. Numbers below 50 indicate contraction.
A gauge of industrial metals on the London Metal Exchange touched a five-year low this month, while iron ore is headed for a record quarterly loss.
Copper for delivery in three months on the LME has dropped 2.8 percent since the start of the year to $6,120.50 a ton on Tuesday. Nickel has slid 6.6 percent to $14,150 a ton.
Copper Imports
China's copper imports in February tumbled by the most in four years, while oil and iron ore imports slowed to the weakest in three months, customs data showed this month. The slowdown also reflects the impact of the Chinese New Year holiday, when factories and output slow before and during the weeklong break, which started Feb. 18.
Morgan Stanley cut its 2016 outlook for copper by 14 percent to $6,283 a ton and that for nickel by 19 percent to $16,094 a ton, the report showed. Global copper output will exceed demand by 230,000 tons this year, compared with a balanced market last year, according to the report.
The bank reduced its 2015 forecast for iron ore to $57 a ton and the 2016 estimate by 13 percent to $65 a ton. Seaborne supply will exceed demand by 129.3 million tons in 2017 from an estimated 55 million tons this year, it said.
Iron ore with 62 percent content at Qingdao has fallen 22 percent to $55.86 a ton this year, Metal Bulletin data show.
The bank also cut its 2015 forecasts for alumina and aluminum prices by 12 percent each.
Before it's here, it's on the Bloomberg Terminal.
LEARN MORE