Merkel Points Tsipras Toward Deal With Greece's Creditors
Jonathan Stearns, Birgit Jennen and Karl Stagno Navarra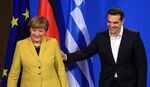 European officials are preparing to assess Greece's third set of economic policy proposals with German Chancellor Angela Merkel urging Prime Minister Alexis Tsipras to do what is needed to qualify for aid.
Tsipras's government may submit a comprehensive list of policy measures aimed at securing more financial aid by the end of the week. That document needs the endorsement of Greece's official creditors and the finance officials' committee before ministers will consider whether it's up to scratch. Euro-area finance officials will hold a call on Wednesday to discuss progress on Greece, two people familiar with the plans said.
After a red-carpet reception and five hours of talks with Merkel on Monday, Tsipras is meeting the Chancellor's coalition partners on Tuesday as he seeks to build political support for a payment. Investors have welcomed the rapprochement after weeks of sniping hampered the work to release aid.
Keeping Greece in the euro "is the focus of all of our efforts, though it's up to the Greek government first and foremost to do its part," Deputy Foreign Minister Michael Roth said in response to e-mailed questions. "We can't afford to lose any more time."
Greek shares advanced for a third day, heading for their biggest three-day gain in a month. The ASE Index climbed 8.2 percent in the period, with Eurobank Ergasias SA rising 6.3 on Tuesday. The yield on Greece's three-year notes dropped 147 basis points to 20.257 percent.
A month after winning an extension of the Greek bailout, the government is still scrambling from day to day to meet its obligations as its creditors demand more work on its economic plan.
Racing the Clock
Both Tsipras and Merkel hinted at the prickly relationship between their respective finance ministers in recent weeks at a joint press conference on Monday evening. Tsipras said that he wants to avoid widening splits in the euro area and urged Germans and Greeks to avoid stereotyping each other, saying Germany isn't to blame for all of Greece's problems.
"It's up to us both to have a trusting cooperation and that we can also address difficult questions, including questions for which we have different options," Merkel said.
Attacking Austerity
Meeting the chancellor for the second time in five days, Tsipras echoed Merkel's tone, while jabbing at the policy prescriptions that she has shaped for the past five years.
"The Greek bailout program was an unprecedented adjustment effort but in our view it wasn't a success story," he said. "We're trying to find common ground to reach an agreement soon on the reforms that the Greek economy needs and for the disbursement of the funds that it also needs."
With Greece's financial predicament becoming ever more parlous, Tsipras was greeted by a group of supporters demonstrating outside the Chancellery who could be heard chanting during the ceremonial reception.
His government needs to persuade its creditors to sign off on a package of economic measures to free up long-withheld aid payments that will keep the country afloat.
Merkel has suggested repeatedly that crises such as the conflict with Russia over Ukraine increase the need for Europe to show unity and hold its shared currency together.
"It's the only way Europe can successfully face the various crises, including in foreign and security policy," said Roth, whose Social Democrats are Merkel's junior coalition partner. "A Greek exit would have grave political consequences."
Before it's here, it's on the Bloomberg Terminal.
LEARN MORE