Mandela Penned Autobiography Sequel to Be Published in 2016
Amogelang Mbatha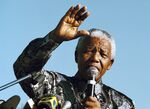 South Africa's former President Nelson Mandela penned an incomplete draft of a sequel to his best-selling autobiography, "Long Walk to Freedom," which will be published by PAN Macmillan next year.
The sequel will be a full account of Mandela's time as president and be based on a personally written draft that forms part of the archives of the Nelson Mandela Foundation, according to an e-mailed statement from the foundation.
Mandela started working on a manuscript provisionally titled "The Presidential Years" in 1998, his widow Graca Machel said in the statement. "He wanted to put on record his own reflections of those important years in his life when he was president of South Africa," she said.
Widely known by his clan name Madiba, Mandela was jailed for 27 years for fighting against white minority rule under apartheid. He won the Nobel Peace Prize in 1993 for promoting reconciliation between blacks and whites in South Africa and became the nation's first black president a year later. He died on Dec. 5, 2013, at the age of 95.
The sequel "will be candid and clear-eyed about the difficulties he faced while in office, but also about the fault lines that run through contemporary South Africa," according to the statement.
Macmillan acquired U.K. and Commonwealth rights to the sequel from Jonny Geller at Curtis Brown, representing the foundation and PQ Blackwell.
Mandela's estate was provisionally valued at 46 million rand ($3.9 million) with the exception of the contents of three trust funds, according to the executors of his will. His former wife of 38 years, Winnie Madikizela-Mandela, has made claim to his homestead in Qunu in South Africa's Eastern Cape province, stating that it was bought while they were married. The couple divorced in March 1996, citing irreconcilable differences.
Before it's here, it's on the Bloomberg Terminal.
LEARN MORE