Kasich Hits New Hampshire to Tell Ohio Story
Mark Niquette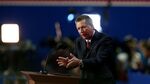 Saying he's "a normal guy in a big job," Ohio Governor John Kasich made his first return to New Hampshire since he ran unsuccessfully for president in 1999.
"Aren't you sick of all the divisions in America?" Kasich, a two-term Republican considering a 2016 run for president, asked at the "Politics and Eggs" breakfast Tuesday at Saint Anselm College near Manchester. "You think America's strong when all we do is fight with one another?"
Kasich spoke about his record as a nine-term congressman and chairman of the House Budget Committee the last time the federal budget was balanced in the 1990s. He also outlined his tenure in the presidential battleground Ohio, erasing a deficit of about $8 billion while cutting taxes and helping the mentally ill and others "in the shadows."
The governor also is meeting with business leaders in Nashua in the first-in-the-nation primary state and speaking with activists tonight in Concord. He travels to New York on Wednesday to meet with potential donors and speak at the 21 Club, and has trips scheduled next month to South Carolina and Detroit.
Kasich, 62, told reporters after the event that while he is traveling more, he hasn't made a decision about running and doesn't know when he will.
"All my options are on the table," he said. "I would not get in this if I didn't think I could win."