Germany Shocked Over Largest Single Loss of Life in 15 Years
Stefan Nicola, Tino Andresen and Maria Tadeo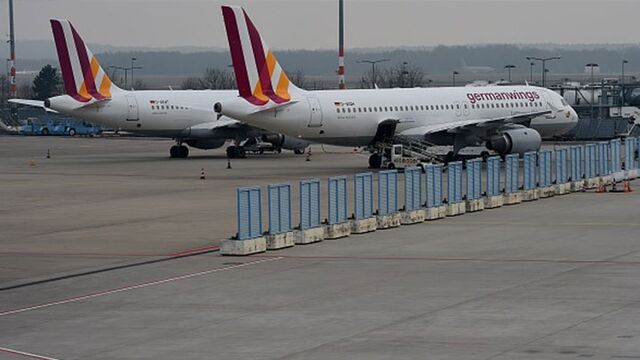 Germany mourned the loss of 72 citizens in the Germanwings crash in the French Alps, the country's largest death toll in a single incident in 15 years.
The grief was acutest in Haltern am See, a town of 38,000 about 80 kilometers (50 miles) north of Dusseldorf that lost 16 students and two teachers. Two prominent opera singers were also on Germanwings Flight 9525.
Chancellor Angela Merkel arrived in France Wednesday afternoon to meet near the crash site with French President Francois Hollande and Spanish Prime Minister Mariano Rajoy. About half the 150 passengers were German and one in four were Spanish. In all, citizens of more than 15 nations were aboard the flight. Bild, Germany's largest newspaper, summed up the mood with the banner headline: "All of Germany in Shock."
Interior Minister Thomas de Maiziere ordered flags to fly at half-mast on federal buildings for the next three days to remember those who perished after the plane plunged into the mountains en route from Barcelona to Dusseldorf in the state of North Rhine-Westphalia. The last time the country suffered such a large loss of life in one accident was in 2000, when 97 Germans died in the Air France Concorde crash near Paris.
"No one, no power, can take away the pain of having lost a family member or a good friend," North Rhine-Westphalia Deputy Prime Minister Sylvia Loehrmann told reporters Wednesday. "We can only share that pain and maybe some comfort can grow from that sharing. All of Germany is mourning with us and the whole world is sending us messages."
Opera Singers
Other nations with citizens on the plane include the Netherlands, Denmark, Morocco, Australia, Belgium, the U.K., Argentina, Israel, Colombia, Japan, the U.S. and Mexico.
Two German opera singers, who had been performing at Barcelona's Gran Teatre del Liceu in composer Richard Wagner's Siegfried, were also on board. Oleg Bryjak was a 54-year-old bass baritone who had been at the Deutsche Oper am Rhein since 1996. Contralto Maria Radner was on the flight with her husband and baby after spending a month in Barcelona.
Bryjak, born in Kazakhstan, was an accomplished cast member who sang key roles in Germany and abroad known for his Wagner roles. Radner was a rising opera star who was due to give her debut at the prestigious Bayreuth Festival in August.
"She had an extraordinary, very strong mezzo-soprano voice," Monika Doll, a spokeswoman at the opera, said by phone.
School Exchange
At least one Bayer AG employee and the wife of another were on the flight, the Leverkusen, Germany-based pharmaceuticals company said on its Spanish website. Henkel AG said a female employee of the consumer products company was also on the plane.
The Haltern am See 10th graders had visited the IES Giola de Llinars del Valles school in the Catalan town of Llinars del Valles for a one-week language exchange. One of the female teachers had gotten married in October and the other was planning to marry.
"We sent 16 happy young people with two happy young colleagues on their way," Ulrich Wessel, the school's principal, said at a press conference. The trip "ended in tragedy. Life at our school will never be the same."
The group stayed with students who had visited Haltern am See in December and took trips to places such as nearby Barcelona. The two schools have been doing exchanges for several years. Spain declared three days of mourning for crash victims.
"They did the type of things that children of their age do -- they played basketball and took cultural trips," Josep Aixandri, a town councillor, said by phone. "'It's very tragic."
Jordan Coronado, an 18-year-old trainee at the Spanish school, was among students, teachers and parents who attended an hour-long service on Wednesday to mourn the victims.
"Everyone was crying," Coronado said afterward. "We all knew them, we'd seen them hanging around school."
Before it's here, it's on the Bloomberg Terminal.
LEARN MORE