For Brazilians in Manhattan, Window-Shopping Is Now All the Rage
Julia Leite and Paula Sambo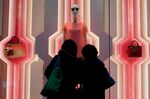 The effects of the plunging Brazilian currency are easy to spot on the streets of New York.
Walking out of the B&H store in midtown Manhattan this past weekend, Tabata Bandez said she had been nervously tracking the real's drop during her eight-day trip and scrapped plans to buy a computer to bring back to Rio de Janeiro. A few days earlier, the Gaiao family was taking plenty of pictures in front of Rockefeller Center but doing little shopping. And at the Apple store on Fifth Avenue, Claudia Tavares decided to get her stepson's iPhone fixed instead of paying up for a new model.
"You have to do the math and see if it's worth it," Tavares, 51, said while waiting in line. The day after arriving from Brazil, she and her friend, who are staying in a short-term apartment rental with their daughters after finding hotels too expensive, went to Target to stock up on food. That was some of the only shopping they planned to do, she said.
Brazil's decade-long tourism binge is coming to an end.
Even before the real fell another 15 percent against the dollar this year -- part of a two-year, 36 percent tumble that sent it to a 12-year low last week -- Brazilians were already paring back their spending on overseas trips. In the fourth quarter, they spent 8 percent less than they did a year earlier, the biggest drop for any quarter since 2009.
Already Paid
More declines may be looming. Goldman Sachs Group Inc. predicts the real could fall another 10 percent in the next 12 months, while Standard Chartered Bank says the currency could tumble another 15 percent by year-end as President Dilma Rousseff struggles to shore up a sputtering economy and bolster investor confidence in her government's finances while quelling street protests triggered by a widening corruption scandal.
How fast the real tumbled took some of the tourists by surprise. Tavares bought dollars for 3.10 reais just a few days after her friend, Maria Ester de Barros, paid 2.99. The real, which reached as low as 3.31 per dollar on Friday, was about 15 percent stronger when they booked their plane tickets.
"We had already paid for the trip, so we came," de Barros said. "But not to shop."
Saulo Gaiao, a restaurant owner in the coastal city of Recife, was also caught offguard. The real had fallen about 20 percent from the time he booked the trip to the time he arrived in New York with his wife and two kids. As they snapped pictures of each other outside Rockefeller Center, there were no shopping bags in sight.
"We're paying a high price for the mistakes" of this government, Gaiao said.
An Outlier
Brazilians aren't, of course, the only foreigners finding they suddenly have less purchasing power in the U.S.
The dollar is soaring against most currencies in the world, the result of the Federal Reserve's plan to start raising interest rates later this year. The Danish krone, euro, Swedish krona and Canadian dollar are all down more than 7 percent this year against the U.S. currency. The Bloomberg Dollar Spot Index, which tracks the greenback against 10 major currencies, is up 4.7 percent this year.
But the real's plunge stands out.
Even after posting a 5 percent rebound over the past two days, its decline this year is still the worst among the 31 most-traded currencies against the dollar. The real was little changed Tuesday at 3.1288 per dollar at 1:56 p.m. in New York.
Bargain Hunting
For Caroline Nedelciu, a partner at a travel agency in the upscale Sao Paulo neighborhood of Moema, the real has become a big problem. Clients are asking for cheaper hotels or taking shorter trips. She said she's suggesting visits to Paris, since the real is down just 6.2 percent this year against the euro.
"We're having to work for every sale, negotiate a lot, which didn't used to happen," Nedelciu said.
Back in Manhattan, Bandez said it was "a little bit of torture" following the currency's slump day after day. At the end of her trip, she had bought little else besides a few small items -- lotions and vitamins -- for family members.
"I looked at it every day and just wanted to cry," she said about the real. She paid more than 3.30 reais per dollar. "I came with the idea of getting to know the city more than to shop, and that was basically what I did."
Before it's here, it's on the Bloomberg Terminal.
LEARN MORE