Coffee Harvest in Indonesia Expanding to Record on Rainfall
Yoga Rusmana and Eko Listiyorini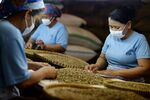 Coffee farmers in Indonesia, the world's third-biggest producer of the robusta variety used by Nestle SA, will probably harvest a record crop in the season starting April after rains boosted yields.
Production may increase 18 percent to 650,000 metric tons from 550,000 tons a year earlier, the median of five trader estimates compiled by Bloomberg shows. That would exceed the all-time high of 630,000 tons in 2009-2010 and matched in 2012-2013, according to U.S. Department of Agriculture data.
The unprecedented harvest in Indonesia will add to global supply, potentially pressuring prices. A survey this month showed production could increase to a record in Vietnam, the largest robusta grower. Crop prospects have also improved in Brazil, the second-biggest robusta producer and the top supplier of arabica beans favored by Starbucks Corp.
"There's fresh optimism that output will rise," Theng Hong Sioe, a deputy chairman at the Association of Indonesian Coffee Exporters and Industries, said by phone on March 19. "The weather is quite favorable, it's not too wet or too dry. Hopefully there's no adverse weather that could hurt the crop."
Robusta dropped 11 percent in the past year to $1,855 a ton on ICE Futures Europe on Tuesday. Arabica was at $1.4375 a pound in New York, down 19 percent in the past 12 months, as rains in Brazil helped ease the most-severe drought in decades.
Rising Supply
The global harvest will expand 7 percent to 152.8 million bags in 2015-2016 and cut the shortage to 1.4 million bags from 8.9 million bags this year, Volcafe Ltd. said last month. Output in Indonesia may climb to 10.9 million bags, it said. A bag weighs 60 kilograms, or 132 pounds.
Rabobank International says the deficit will shrink to 1.6 million bags from 6 million bags and Indonesia will harvest 12.3 million bags from 9.3 million bags a year earlier.
"We have seen a slightly better weather pattern during the development of the 2015-2016 crop, although still far from perfect weather," said Carlos Mera Arzeno, senior commodities analyst at Rabobank in London. "In any case, after a low crop in 2014-2015, trees should have more energy for the 2015-2016 crop. Rainfall during the harvest will impact quality but it will hardly impact volumes," he said in an e-mail March 23.
Forecasts in the Bloomberg survey ranged from 630,000 tons to 690,000 tons. Crops may have suffered in some areas because of heavy rains in late 2014, according to Moenardji Soedargo, chief operating officer of PT Aneka Coffee Industry, an exporter in Sidoarjo, East Java.
Weather Concern
The crop is "not entirely in an ideal condition," Moenardji said in a text message on March 23. "Heavy rain at the end of last year knocked off small cherries, especially on the highlands of southern Sumatra. Production may not be at its best," he said, predicting a crop of 630,000 tons.
Showers will continue in Sumatra and Java over the next several days with heavier rains moving into Sulawesi, MDA Weather Service said in a March 19 report. Moisture remains short in north Sumatra and sufficient in other regions, it said. The state-run meteorological agency predicts a normal dry season across Indonesia starting April.
"Yields look quite promising," Sunyoto, a 64-year-old farmer in Way Tenong, West Lampung, said by phone March 10. His plantation may produce 1.5 tons to 2 tons per hectare (2.47 acres), up from 0.8 ton to 1 ton last year, he said.
Golden Triangle
The provinces of Lampung, Bengkulu and South Sumatra are the main robusta producers. The region known as the 'Golden Triangle' represents about 75 percent of the country's output. Beans from the area are shipped from Panjang port in Lampung. Arabica grows mostly in northern Sumatra and Java and was 16 percent of the total harvest in 2014-2015, USDA data show.
Daily deliveries to warehouses in Bandar Lampung averaged 240 tons a day, similar to the pace in February, said Mochtar Luthfie, head of research and development at Lampung's chapter of the exporters association. The export-grade robusta was offered at about 23,000 rupiah ($1.77) per kilogram in Lampung last week, Theng, the group's deputy chairman said.
A smaller crop in the season ending this month means traders are competing to secure beans they need for contractual deliveries in the next two to three months, said Luthfie in an interview in Bandar Lampung on March 10.
"The supply is really tight," Luthfie said. "Exporters with limited stocks are forced to buy from other traders even at higher prices," he said, adding that the harvest may start in May in Lampung.
Shipments declined to 382,000 tons in 2014 from 432,000 tons a year earlier because of higher domestic consumption, according to Irfan Anwar, chairman of Association of Indonesian Coffee Exporters and Industries, at conference in Jakarta on Tuesday. He estimated local use may rise to 350,000 tons in 2015 from about 300,000 tons in 2014 and 190,000 tons in 2010.
Before it's here, it's on the Bloomberg Terminal.
LEARN MORE