Amanda Knox Faces Final Verdict, Possible Extradition Battle
John Follain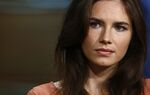 For more than seven years Amanda Knox has been fighting to prove her innocence in one of Italy's most notorious and tortuous murder cases. Now she faces a new battle.
Italy's highest court on Wednesday started reviewing earlier convictions of the 27-year old Seattle native and her Italian ex-boyfriend Raffaele Sollecito for the 2007 murder of British student Meredith Kercher. A guilty verdict by the top court, which had already rejected an earlier acquittal, would trigger an extradition battle with the U.S. Judges could also overturn the convictions and order a new trial.
"This is the fifth verdict and we hope it won't be the last," Knox's lawyer Luciano Ghirga said by phone. "We expect justice," Sollecito's lawyer Luca Maori also said by phone.
The half-naked body of Kercher, a 21-year-old Leeds University exchange student, was found on Nov. 2, 2007, in her bedroom in the cottage she shared in Perugia with Knox and two other women. Her throat had been cut.
In a legal odyssey full of twists and turns, Knox and Sollecito have been convicted, acquitted and convicted again. The latest verdict last year by an appeals court in Florence sentenced Knox to 28 1/2 years in prison for murder and slander, and Sollecito to 25 years. Both Knox and Sollecito have denied any wrongdoing. They were first convicted of murder in 2009 and served almost four years in prison.
Addressing the court, presiding judge Gennaro Marasca said a verdict could come on Friday, with a last address by the parties that morning before the judges withdraw to deliberate.
Arrest Warrant
Sollecito, dressed in a navy jacket and tie, attended the hearing on Wednesday. His lawyer Maori said before the hearing that if his conviction was upheld, prosecutors would speedily issue an arrest warrant. "I expect that he would be arrested on the day of the verdict or the day after at the latest," he said in an interview.
Knox, who has said she would have to be dragged back "kicking and screaming," will be awaiting the verdict in Seattle, where she has lived since her 2011 acquittal.
If Knox is definitively convicted, Italian prosecutors would automatically seek her extradition, a demand which would have to be approved by the justice minister in Rome. A final decision on whether to grant a request would rest with John Kerry, the Secretary of State.
Double Jeopardy
A U.S. official, speaking on conditions of anonymity because officials can't comment on cases without the individual's permission, said by phone that the U.S. was unlikely to send her back to Italy because of political opposition at home.
Andrea Castaldo, a professor and lawyer who isn't working on the case, said Knox's U.S. lawyers would probably invoke a constitutional ban on "double jeopardy" to argue that she had been tried again after her acquittal.
"The U.S. has always recognized that a case remains the same through the Italian courts, until a definitive verdict. But then there are other considerations involving public opinion and politics," Castaldo said.
Prosecutor Giuliano Mignini said at the first trial in Perugia that Knox had masterminded a drug-fueled sex game involving Sollecito and Rudy Guede, an Ivory Coast native, that turned violent. Later, another prosecutor argued that the violence stemmed from arguments about the house's cleanliness.
Summing up the case at the start of Wednesday's hearing, Antonio Bruno, one of the five judges, told the court that "this is a case in which there are precious few certainties."
Guede was found guilty in a separate "fast-track" trial in 2008 and sentenced to 30 years, reduced to 16 years in a 2009 appeal. He denied killing Kercher.
"I hope that Knox and Sollecito will be found guilty, and that Italy will seek Knox's extradition," Francesco Maresca, the lawyer for Kercher's family, said by phone. "The Kercher family wants this case to end, they don't want it to go back to court again."
Before it's here, it's on the Bloomberg Terminal.
LEARN MORE