VW Will Cut Jobs and Production in Russia as Car Market Shrinks
Christoph Rauwald and Andrey Lemeshko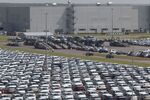 Volkswagen AG will reduce production and is offering buyouts to workers at its Russian factory in Kaluga as demand shrinks.
VW also won't extend contracts for about 150 temporary workers, Natalia Kostyukovich, a spokeswoman in Russia, said by phone. VW has already sent 120 workers from Russia to Germany for training programs and will transfer some Kaluga employees to an engine factory scheduled to open this year, or to a warehouse operation outside Moscow.
While it doesn't expect demand for cars in Russia to recover in the coming months, VW will stick to its investment plan in the country as it still perceives the market's long-term potential as promising. Wolfsburg, Germany-based VW, Europe's biggest carmaker, is the latest in a growing number of western companies to make cuts in Russia.
"We're expecting another passenger-car market decline of about 25 percent in Russia this year," said Daniel Schwarz, a Frankfurt-based analyst for Commerzbank AG. "Adjusting capacity makes sense."
The Kaluga factory will reduce output by shifting to a four-day week from April to July and close for another eight working days in May. It will also switch to a two-shift schedule as of May instead of running three shifts around the clock, VW said.
The shares fell 3 percent to 242.65 euros at 2:33 p.m. in Frankfurt, the worst performance in the benchmark DAX Index.
General Motors Co. said last week it will idle a plant in St. Petersburg and halt sales of its Opel brand and most Chevrolet models, all but abandoning the market damaged by the economic fallout from economic sanctions after President Vladimir Putin's annexation of Crimea from Ukraine.
Weak Ruble
Global automakers started to reduce shifts at Russian factories last year to counter contracting demand for new vehicles as the ruble weakened against other major currencies and the economy slid toward recession. Before the ruble's collapse last year, the country had been forecast by analysts and industry executives to overtake Germany as Europe's largest sales region.
As inflation surged to its fastest pace since 2002 in February, car sales dropped 38 percent in what Russia's Association of European Businesses said was "only the beginning."
VW started a five-year, 1 billion-euro ($1.08 billion) Russian investment plan in 2013, which included spending 250 million euros on the new engine factory where some Kaluga employees may be transferred. Russian regulations require carmakers to use locally manufactured engines in at least 30 percent of vehicles produced in the country by 2016.
The Kaluga factory, about 170 kilometers (105 miles) southwest of Moscow, employs 5,300 people and started production in 2007. Last year about 125,000 units of the VW Tiguan and Polo models as well as the Skoda Rapid rolled off its assembly lines.
Like the German company, Ford Motor Co., the No. 2 U.S. automaker, plans to ride out the storm. Chief Executive Officer Mark Fields said on Jan. 29 that Ford is still introducing new models and sees good long-term prospects for the Russian market.
Before it's here, it's on the Bloomberg Terminal.
LEARN MORE