UKIP Offers Tax Breaks While Spending Less on Scotland and Aid
Benjamin Katz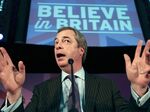 The U.K. Independence Party sought to win over voters in England by pledging to spend less on Scotland, large families and foreign aid in its program for the May 7 general election.
Patrick O'Flynn, UKIP's economy spokesman, said the party would cut child welfare, raise the threshold for tax rates and "scrap inheritance tax altogether" while meeting NATO's defense spending target of 2 percent of GDP. The party would pay for the changes by cutting foreign aid by 10 billion pounds ($15 billion) to 2 billion pounds, scrapping the High Speed 2 Rail project, and reducing taxpayer funding per person in Scotland to the level of that in England, O'Flynn said.
"We want to be the party that stands up for the interests of the English voter," O'Flynn said at a campaign event in Middleton, northwest England. "We are in fact the only party that has already identified where we would find the bulk of the spending cuts to finance our plans."
This is the first time the party has set out in detail its proposals for government spending and the economy. UKIP, which missed winning the Heywood and Middleton constituency in a by-election last year by 617 votes, is drawing support of around 14 percent in opinion polls and taking votes from both Prime Minister David Cameron's Conservatives and the opposition Labour Party.
O'Flynn said the threshold for paying tax would be raised to 13,000 pounds from 10,800 pounds, and the income at which taxpayers are taxed 40 percent -- the U.K.'s second highest rate -- increased to 55,000 pounds from 42,385 pounds.
Leaving the EU would save Britain 10 billion pounds a year in net annual contributions, and would enable the U.K. to curb immigration from eastern and southern Europe which he said had outstripped demand and "turned the minimum wage into a maximum wage," he said.
Before it's here, it's on the Bloomberg Terminal.
LEARN MORE