McDonough Says Netanyahu Must Make Peace Commitment Clear
Mike Dorning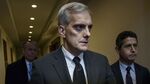 A top aide to President Barack Obama called on Israeli Prime Minister Benjamin Netanyahu to take concrete steps to dispel doubts about his support for a peace settlement with Palestinians.
"We will look to the next Israeli government to match words with actions and policies that demonstrate a genuine commitment to a two-state solution," Denis McDonough, Obama's chief of staff, told a pro-Israel group.
McDonough said Netanyahu's remarks just before the Israeli election that there would be no Palestinian state while he's in office are "very troubling."
Though Netanyahu later backtracked, "we cannot simply pretend that these comments were never made," he said Monday at the national conference of J Street, a Washington-based organization that backs nuclear negotiations with Iran and a two-state solution to the Palestinian-Israeli conflict.
The strained relationship between Netanyahu and Obama hit a low during the run-up to last week's Israeli election. The administration has criticized Netanyahu for his comments about the two-state solution and for an election day warning to supporters that "very large numbers" of Israeli Arab voters were going to the polls.
Netanyahu Apology
Netanyahu has backed away from both statements. He said in an MSNBC interview Thursday that he favored "a sustainable, peaceful two-state solution," and on Monday he apologized for his remarks about Arab citizens of Israel.
"I know the things I said a few days ago hurt some Israeli citizens, Israeli Arab citizens. That was not my intention and I am sorry," Netanyahu said at meeting with representatives of Israeli minorities that was broadcast on Israel's Channel 2 TV.
McDonough said the Israeli leader's pre-election remarks about the a Palestinian state call into question his commitment to the peace process. The two-state solution to the Israel-Palestinian conflict, he said, is "fundamental to U.S. foreign policy."
"That's why the president has said that we need to re-evaluate our approach to the peace process and how we pursue the cause of peace," McDonough said.
Administration officials warned last week that the U.S. is reconsidering use of its United Nations Security Council veto power on behalf of Israel.
U.S. Support
McDonough also sought to assure his audience that the underpinnings of the U.S.-Israel relationship are solid and won't be weakened by political disputes between the countries' leaders, McDonough said
"No matter who leads Israel, America's commitment to Israeli national security will never waver," McDonough said. "As the president's said so many times, we have Israel's back."
Another point of contention between the Netanyahu and the Obama administration is the attempt by the U.S. and five other world powers to prevent Iran from obtaining a nuclear weapon through negotiations. McDonough defended the negotiations.
"The deal we are pursuing is both realistic and achievable," he said of the talks, which have been criticized some lawmakers in the U.S.
A bipartisan group of 367 members of the U.S. House sent a letter to Obama to highlight what the said were "grave and urgent" concerns over the negotiations.
Congressional Concerns
The letter, dated March 20 and released Monday by the House Foreign Affairs Committee, cites concerns about the size of Iran's uranium enrichment program, its lack of cooperation with international inspectors and the need for an intrusive inspection regime.
McDonough repeated that the U.S. "will not accept a bad deal" and, with negotiations under way, Congress shouldn't take any action to undermine the talks. He said another letter sent by 47 Republican senators to Iran's leaders warning that lawmakers could undo any agreement was a "blatant political move."
The negotiators have given themselves until March 31 to agree on the framework of an accord. A six-day session of negotiations in the Swiss city of Lausanne broke up on Friday and talks are due to resume in the coming week. Issues under discussion include the nuclear capacity Iran should be allowed to keep, the nature of inspections, and the pace of relief from sanctions, especially on oil exports.