U.S. Stocks Slip as Transports' Decline Offsets Consumer Gains
Joseph Ciolli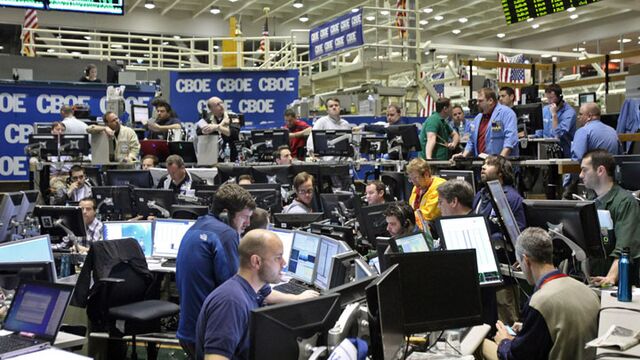 U.S. stocks retreated after the Standard & Poor's 500 Index climbed within four points of a record, as a drop in transportation companies overshadowed gains in shares of consumer-staples producers.
The Dow Jones Transportation Average dropped 2 percent , led lower by Kansas City Southern Corp.'s 8 percent plunge after it cut its outlook for revenue growth in 2015. The Nasdaq Biotechnology Index fell 2.2 percent after setting a record Friday. Oreo maker Mondelez International Inc. and Reynolds American Inc. rose more than 1.6 percent.
The S&P 500 slipped 0.2 percent to 2,104.42 at 4 p.m. in New York. The Nasdaq Composite Index lost 0.3 percent from a 15-year high. The Russell 2000 Index fell 0.1 percent after reaching a record on Friday. About 5.9 billion shares changed hands on U.S. exchanges today, 14 percent below the three-month average.
"I don't see any reason to think we need to take another leg up to start the week today," Michael James, a Los Angeles-based managing director of equity trading at Wedbush Securities Inc., said in a phone interview. "The market is going to remain in a trading range, and we're in the upper band right now."
The S&P 500 and Dow are less than 1 percent from records they last reached on March 2. The Nasdaq Composite jumped on Friday to a 15-year high, almost erasing its losses since the end of the dot-com bubble. The S&P 500 rose 2.7 percent last week, with the dollar weakening, as concern eased about an interest-rate increase.
Nasdaq's Run
The Nasdaq gauge has rebounded 3.3 percent since March 11. It crossed 5,000 earlier this month before losing 3.2 percent in nine days. The index was bolstered by a rally in health-care stocks. The Nasdaq Biotechnology Index jumped 6.2 percent through Friday for its biggest weekly gain since October.
The S&P 500 has gone 24 consecutive sessions without back-to-back advances, the longest since a 24-day stretch in 2008. In 2014, gains came much easier as the measure never fell four days in a row.
The benchmark equity gauge rose as much as 0.3 percent Monday, less than three points from its all-time record reached on March 2. The Nasdaq Composite came within 18 points of its March 2000 peak of 5,048.62 before closing down on the day.
The Nasdaq index approached a record the same week that its biggest member, Apple Inc., entered a much older gauge, the Dow Jones Industrial Average. At 44, the Nasdaq has been around less than half as long as the Dow, and has spent about one-third of its life trying to claw back from the dot-com crash.
Fed Speakers
Federal Reserve Vice Chairman Stanley Fischer said raising interest rates from near zero "likely will be warranted before the end of the year," and subsequent increases probably won't be uniform or predictable.
"A smooth path upward in the federal funds rate will almost certainly not be realized," as the economy will encounter shocks such as the surprise plunge in oil prices or future geopolitical crises, Fischer said Monday in remarks prepared for delivery to the Economic Club of New York.
San Francisco Fed President John Williams will deliver a speech via videoconference to the Australian Business Economists. Cleveland Fed President Loretta Mester said in a Bloomberg Television interview in Paris Monday that it is appropriate to raise rates this year.
Sales of previously owned homes fell short of a 5 million annual rate in February for a second month, showing an industry struggling to gain traction amid rising prices and a lack of inventory.
Housing Data
Closings rose 1.2 percent to a 4.88 million annual rate, the National Association of Realtors reported Monday in Washington. The median value of a house climbed 7.5 percent from the same month last year.
The Chicago Board Options Exchange Volatility Index increased 3 percent to 13.41. The gauge, know as the VIX, fell 19 percent last week, its biggest five-day decline since January.
Six of the S&P 500's 10 main groups retreated, led by a 0.8 percent slide among industrial companies.
Kansas City Southern slipped 8 percent after announcing updated 2015 guidance, pushing the Dow Jones Transportation Index down 2 percent. The company now sees low single-digit revenue growth for the year, reducing a January outlook forecasting a mid-single-digit increase. Union Pacific Corp. and CSX Corp. lost more than 3.9 percent.
Biotechnology, Staples
Vertex Pharmaceuticals Inc. dropped 4 percent after the company said its cystic fibrosis drug Kalydeco combined with an experimental drug helped patients' breathing less than analysts forecast. Celgene Corp. and Regeneron Pharmaceuticals Inc. decreased more than 2.1 percent.
Consumer-staples producers in the S&P 500 rose 0.3 percent. Mondelez added 1.6 percent, while tobacco company Reynolds American gained 2.3 percent and Archer-Daniels-Midland Co. advanced 0.3 percent.
Tiffany & Co. rallied 5.8 percent after a 4 percent selloff Friday. Darden Restaurants Inc. added 3.7 percent to hit an all-time high for a second day.
Apple, EBay and International Business Machines Corp. rose more than 1 percent as technology shares gained 0.1 percent.
Tenet Healthcare Corp. jumped 4.9 percent after saying it will combine its outpatient surgery centers with closely held United Surgical Partners International Inc. in a joint venture, expanding its bet on facilities that are becoming more popular with patients.
Before it's here, it's on the Bloomberg Terminal.
LEARN MORE