U.K. Lawmakers Have Three Months to Get Deal Before Cash Crisis
Robert Hutton and Alex Morales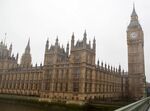 U.K. politicians will have no more than three months to come to some kind of agreement on a future government after May's election, or the administration will run out of money, parliamentary and Treasury documents show.
Polls suggest the U.K. is heading for its tightest ever election on May 7, with the possibility of an outcome in which at least three parties are needed to get a majority in Parliament. While those negotiations go on, David Cameron's government will remain in place,
Its funding, though, only extends into July. Under its usual procedures, Parliament passed a "vote on account" in February. As a House of Commons document published last month explained, that funded about 45 percent of the current financial year's spending, to keep the government going until the middle of calendar 2015. By then, the Treasury is due to present its "main supply estimate" for the financial year, and Parliament to vote on the rest of the money.
"The vote on account provides resources, capital and cash to allow existing services to continue operating during the early months of the coming financial year, pending Parliament's consideration of the main supply estimates in July," the Treasury said in an explanatory document. If that measure isn't passed, the government has no money left.
Parliament wouldn't usually reconvene after the election until a government has been formed and drawn up its legislative program, known as the Queen's Speech.
There's no deadline for the end of coalition talks, but the prospect of the government being unable to pay employees and welfare would be likely to force Parliament's return, and some kind of agreement by different parties.
Before it's here, it's on the Bloomberg Terminal.
LEARN MORE