Potash Board Exit Shocks SQM Bondholders as Chile Probe Deepens
Sebastian Boyd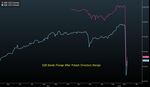 Bond investors in Soc. Quimica & Minera de Chile SA aren't giving controller Julio Ponce the benefit of the doubt.
The Santiago-based fertilizer producer's $250 million of notes due 2025 have fallen 7 percent to a record low since Potash Corp. of Saskatchewan, the company's largest shareholder, withdrew its board members on March 17 after feuding with Ponce over his handling of a tax probe. The slump is the biggest among investment-grade corporate debt in emerging markets.
Bondholders are concerned Saskatoon, Saskatchewan-based Potash Corp. may sell its stake in SQM, undermining confidence in the company's management. The directors' exit followed SQM's bid to block an investigation by prosecutors that was triggered by allegations the company illicitly funded a 2009 senatorial campaign through payments to the sister-in-law of Pablo Wagner, who later became deputy mining minister. On Monday, authorities accused SQM of criminal tax offenses, including issuing fake receipts to reduce taxable income.
"Potash is viewed as a strong shareholder and good for corporate governance," Jim Harper, the head of research at BCP Securities LLC, said from Stamford, Connecticut. "It's a second pair of eyes. No one outside Chile has really heard of Ponce, so the presence of Potash is a source of great comfort. It's really awful when they resign like that."
Potash, the world's largest fertilizer producer by market value, owns a 32 percent stake in SQM.
'Dissident Position'
"It has become clear that given our minority and dissident position on the board, we are unable to ensure either that an appropriate investigation is conducted or that SQM collaborate effectively with the public prosecutor," Potash said in a statement March 18.
Jochen Tilk, the chief executive officer of Potash, said in December that he's reviewing the status of minority stakes in fertilizer companies. Potash has yet to complete the review and has no plans either to sell or increase its SQM shareholding, spokesman Randy Burton said March 18.
Chile's internal revenue service, which said Monday it may add further charges going back nine years, has requested an investigation into SQM, a move that gives prosecutors the right to interview executives and demand documents.
SQM said March 18 it had set up a committee to investigate claims against it and had terminated its CEO. The company also said it "voluntarily provided the Chilean internal revenue service with all of the information that was requested by the public prosecutor and will continue to do the activities necessary to reach a prompt conclusion."
CEO Ousted
SQM declined to comment on the decline in the bonds or its corporate governance. The company hasn't been charged in court.
Patricio Contesse, who was ousted last week as SQM's CEO after 25 years, had obtained a constitutional tribunal ruling to stop prosecutors from raiding the company's offices for at least a week. SQM delivered some company accounts to Chile's tax office on March 16, declaring that the revenue service is the competent authority to investigate the case.
Chile's peso gained 0.3 percent to 622.50 per dollar as of 10:56 a.m. in New York.
Ponce controls SQM, the world's largest producer of iodine and lithium and a major potash producer, through a series of holding companies after building up his stake from state asset sales that former dictator Augusto Pinochet began in 1983. He fended off a 2006 attempt by Potash to gain control by signing a pact with Nagoya, Japan-based Kowa Co.
SQM's most-traded B shares have tumbled 13.8 percent since March 17.
"What we're seeing is about the worst thing you could imagine in terms of corporate governance," Aldo Reyes, CEO of Chilean debt-rating company Clasificadora de Riesgo Humphreys, said from Santiago. "It's extremely serious for almost half your board to get up and walk out. These are directors named by a major shareholder, and they say they no longer have any confidence."
Before it's here, it's on the Bloomberg Terminal.
LEARN MORE