Miriam Bienstock, Co-Founder of Atlantic Records, Dies at 92
Stephen Miller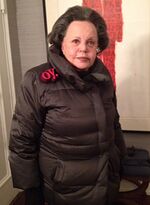 Miriam Bienstock, who helped found Atlantic Records and ran the business side of the fledgling label as it became an industry leader during the rise of rock 'n' roll, has died. She was 92.
She died on March 21 at her home in Manhattan, her son Robert Bienstock said in a telephone interview.
Bienstock became one of a handful of pioneering female music industry executives when she and her then-husband, Herb Abramson, joined with Ahmet Ertegun in 1947 to start Atlantic Records. She managed production and finances for the New York-based company as it mined an untapped market for black performers including Ruth Brown and Ray Charles.
"I didn't feel like a pioneer," Bienstock said, according to "Record Makers and Breakers," John Broven's 2009 book. "I felt I was doing my job."
By 1959, when its artists included the Coasters, the Drifters and Bobby Darin, sales climbed to $1 million a month, Broven wrote. Later, Otis Redding and Booker T. & the M.G.'s joined the roster.
Bienstock's role at the label had little to do with the music. As Atlantic's business manager, she handled payments to artists, record production and negotiated foreign agreements, Broven wrote. In 1958, Bienstock was named vice president in charge of publishing.
That same year, Billboard profiled her in an article under the headline, "Atlantic's 'Money Man' Is a Woman." The trade publication noted that Bienstock "is one of the few women executives in the record industry, a business heretofore noted for its lack of fem talent."
Corporate Headquarters
Bienstock ran the emerging Atlantic empire at first from a Midtown hotel suite and then from two floors of a brownstone building on West 56th Street in Manhattan that doubled as a studio. She had a formidable reputation that she later attributed to safeguarding Atlantic's shaky finances in the early days.
"If the distributors didn't pay their bills, I was very nasty," Bienstock said, according to "The Last Sultan: The Life and Times of Ahmet Ertegun," by Robert Greenfield (2012).
At the time, Abramson was president of Atlantic Records and Ertegun was vice president.
Of her experience as an Atlantic executive, she said: "It gives me a lot of pride. We had an aura that belonged all to ourselves."
Miriam Kahan was born on Jan. 4, 1923, in Brooklyn, New York, to Russian immigrant parents, Abraham and Syliva Kahan. Her father worked in the garment industry, Robert Bienstock said.
Early Life
Bienstock attended Erasmus Hall High School and graduated from Brooklyn College, her son said.
In 1945, she married Abramson, a record producer who she met through her interest in jazz. He was drafted into the U.S. Army in 1953, and soon after his return two years later, they divorced. In 1957, she married Freddy Bienstock, a music publishing executive.
She left Atlantic and in 1964 sold her stake in the business to Ertegun and the other owners, according to "The Last Sultan." For her 13 percent share, she received $600,000.
Bienstock shifted her focus to theater. In 1978 she produced "Elvis," a musical biography of Elvis Presley staged in London. Her second husband, Freddy Bienstock, headed a music publishing company that controlled rights to much of Elvis's music. She also produced "Strider," a play that ran on Broadway for 214 performances in 1979 and 1980.
Recent Hit
Most recently, she was an investor in the current Broadway production of "Beautiful: The Carol King Musical," which last year won two Tony Awards after receiving nominations in seven categories.
Atlantic Records was acquired by Warner Bros.-Seven Arts Inc. in 1967 and today is part of Warner Music Group, the world's third-largest music content company. The label's catalog includes Led Zepplin, the Rolling Stones and Bruno Mars, according to its website. The group is owned by New York-based Access Industries.
Bienstock was the last surviving member of the executives who founded Atlantic Records. Herb Abramson died in 1999. Ertegun died in 2006.
In addition to her son, Bienstock's survivors include a daughter, Caroline Bienstock, and eight grandchildren. Her husband, Freddy Bienstock, died in 2009.
Before it's here, it's on the Bloomberg Terminal.
LEARN MORE