McDonald's Gains as Glenview's Robbins Renews REIT Pressure
Craig Giammona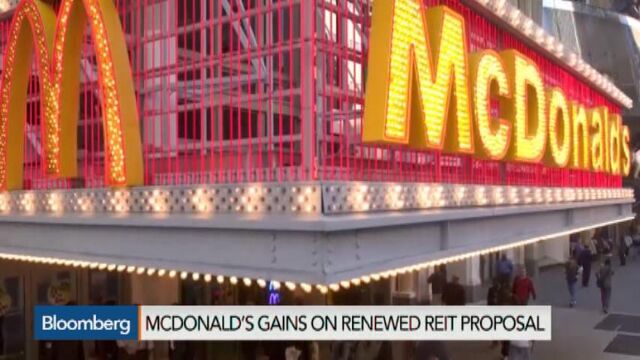 McDonald's Corp. shares rose after hedge-fund manager Larry Robbins said the fast-food chain could unlock at least $20 billion in value by converting to a real estate investment trust.
The stock advanced 1.6 percent to close at $98.62 in New York on Monday, the biggest single-day gain in almost a month. McDonald's could trade at $169 if it improves its operations, including pursuing a REIT, Robbins, chief executive officer of Glenview Capital Management, wrote in a March 18 letter.
Robbins, who has a small stake in McDonald's, is suggesting changes after the arrival of a new CEO earlier this month. It isn't the first time he's shared his views on the fast-food chain. He said in February that McDonald's has potential to improve its operations under its new leader, Steve Easterbrook. At the time, Robbins said the chain should evaluate options such as separating its real estate assets.
Robbins, who manages $10.5 billion at New York-based Glenview, said in last week's letter that the company's real estate could contribute $25 a share toward the $169 target price. McDonald's, based in Oak Brook, Illinois, is "unique" in the fast-food industry because it owns 45 percent of the land and 70 percent of the buildings for its restaurants, Robbins said.
REITs are typically valued at higher multiples to earnings before interest taxes, depreciation and amortization, Robbins said.
"Give that REITs are trading at almost 20x Ebitda, we do not believe this is reflected in McDonald's current Ebitda valuation and we believe management efforts to monetize or illuminate this could unlock at least $20 billion of value," Robbins said.
Investors like REITs because, by law, they must pay out at least 90 percent of taxable earnings to shareholders as dividends. REITs don't pay federal income taxes on those earnings in exchange.
Before it's here, it's on the Bloomberg Terminal.
LEARN MORE