Indonesia's Rupiah About-Face Challenged by Lack of Reserves
Yudith Ho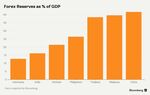 Indonesia's foreign-exchange reserves, the smallest in Southeast Asia relative to economic output, are coming under scrutiny as the central bank starts to combat the rupiah's slide to a 16-year low.
"Indonesia is not in a comfortable range when it comes to reserves," Michael Every, head of financial markets research at Rabobank International in Hong Kong, said in a March 19 phone interview. "It makes more sense that they would like to build reserves and see the trade-weighted rupiah continue to weaken."
The central bank left interest rates unchanged at a policy review last week and pledged to "beef up measures" to stabilize the rupiah, including by intervening in the market. That marked a change from the February meeting when borrowing costs were cut unexpectedly and the monetary authority indicated it was comfortable with a weaker currency, comments that helped spur $1.1 billion of outflows from stocks and bonds this month.
While declines in interest rates and the rupiah will help revive an economy expanding at the slowest pace in five years, central bank Governor Agus Martowardojo risks driving away global capital that's needed to finance the current-account deficit. Bank Indonesia's ability to support the rupiah is constrained by foreign-exchange reserves that, relative to gross domestic product, are less than half the size of those in Malaysia, Thailand or the Philippines.
Low Reserves
The rupiah rallied 0.6 percent last week to 13,118 per dollar as the central bank voiced its support for the currency. That followed five consecutive weeks of declines in which it sank 4.4 percent, Asia's worst performance. The currency will drop to 13,540 by year-end, the weakest level since 1998, according to the average of seven forecasts compiled by Bloomberg that were updated last week.
While Indonesia's foreign-currency reserves rose 12 percent in the year through February to $115.5 billion, they still account for just 13 percent of GDP. That compares with 40 percent in Malaysia, 39 percent in Thailand and 26 percent in the Philippines, data compiled by Bloomberg show.
The central bank has no intention to "pile up" reserves and its focus is "clearly on stabilization" of the rupiah, spokesman Peter Jacobs said March 19 in Jakarta. The government will coordinate with Bank Indonesia to strengthen the rupiah, Finance Minister Bambang Brodjonegoro told reporters in Hong Kong on Monday.
Political Pressure
"It's going to be a challenge for Bank Indonesia if they need to support the currency over a prolonged period, considering the reserves," Irene Cheung, a currency strategist at Australia & New Zealand Banking Group Ltd. in Singapore, said in a March 19 interview. "Credibility is something that needs to be rebuilt over time, so we'll be watching Bank Indonesia's actions and comments closely going forward."
Bank Indonesia raised its benchmark interest rate to 7.75 percent at an unscheduled review in November after the government lowered fuel subsidies. Its cut on Feb. 17 was the first in three years and came after declines in global energy prices outweighed the scrapping of gasoline subsidies in January, leading to lower retail prices.
BlackRock Inc., which oversees $4.65 trillion, is a "bit cautious" on Indonesia at the moment, Joel Kim, head of Asia Pacific fixed income in Singapore, said in a March 17 interview.
"Clearly the rate cut they did last month wasn't well received" by the foreign-exchange market, he said. "There's a lot of political pressure for central banks to ease."
'Structurally Different'
More than 20 monetary authorities around the world, including in South Korea, India and Thailand, have cut borrowing costs this year to help boost economic growth. Unlike Thailand, which had a current-account surplus of 3.8 percent of GDP in 2014, Indonesia recorded a 2.95 percent deficit.
"The economy is structurally different to neighbors like Thailand that cut rates," David Sumual, chief economist at PT Bank Central Asia, Indonesia's largest lender, said in a March 18 interview in Jakarta. "Indonesia is dependent on capital inflows to plug the current-account gap, so it can't let go of the rupiah's stability in favor of growth."
Southeast Asia's largest economy expanded 5.02 percent last year. The government is targeting 5.7 percent growth this year, while the World Bank is forecasting 5.2 percent. President Joko Widodo, who took office in October, wants to boost annual expansion to 7 percent before the end of his five-year term and increasing non-commodity exports is a key part of his strategy.
'Real Confusion'
Overseas sales fell 16 percent last month from a year earlier, the most since 2012, data showed last week. That's even after the rupiah declined 10 percent over the 12 months through February.
A weaker currency hasn't left Indonesian exporters looking any more competitive and dilapidated infrastructure and onerous labor market regulations are likely to remain major obstacles, Capital Economics Ltd. wrote in a March 16 research report.
"There's real confusion about what the underlying direction is," said Rabobank's Every. "To raise rates and then cut so soon after is just bizarre. I can't imagine other central banks doing it quite as freestyle."
Before it's here, it's on the Bloomberg Terminal.
LEARN MORE