Here's Where The Smartest People on Twitter Think The Fed Funds Rate Is Going
What's in store for the Fed?
by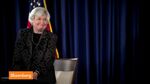 More than six years after slashing its target for the federal funds rate to a range of 0 and 0.25 percent, the Federal Open Market Committee took a small step last week towards beginning to raise interest rates by removing the word "patient" from its guidance, which theoretically opens up the possibility of a rate hike as early as June.
David Schawel, a fixed-income portfolio manager in North Carolina, asked his nearly 20,000 Twitter followers where they think the federal funds rate will be three years from today.

Schawel is big on Finance Twitter, and the people who interact with him are some of the brightest folks around.
With 135 responses to his tweet, the plurality believed that the federal funds rate will be at a mere 0.25 percent in three years. Other targets receiving a high number of votes were 1.25 percent, 1.50 percent and 3.00 percent, while the mean was 1.77 percent. Here are the full results.

Before it's here, it's on the Bloomberg Terminal.
LEARN MORE