Hedge Funds Least Bullish on Oil Since 2012 Miss Late-Week Rally
Mark Shenk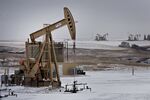 Hedge funds reduced bullish oil bets to the lowest in more than two years, missing out on a rally as the U.S. dollar dropped.
Speculators cut net-long positions on West Texas Intermediate crude by 12 percent in the seven days ended March 17, U.S. Commodity Futures Trading Commission data show. Long bets grew the most in two months, while short wagers expanded by 35,595 contracts, the highest in data that began in 2006.
Oil rebounded 5 percent from a six-year low after the U.S. Federal Reserve indicated March 18 that it will be slow to raise interest rates, sending the dollar to its biggest weekly loss since 2011. WTI is still down 14 percent this year amid record supplies at the largest U.S. storage hub. Iran could eventually add as much as 1 million barrels a day to the market if it reaches a nuclear accord with the U.S. and its allies.
"There's been a greater willingness to short the market," Tim Evans, an energy analyst at Citi Futures Perspective in New York, said by phone March 20. The oil rally was due to expiration of the front-month futures contract, a drop in the dollar and a gain in stocks, he said.
Futures for April delivery dropped $4.83 to $43.46 a barrel on the New York Mercantile Exchange in the period covered by the CFTC report, the lowest close in six years. The contract rebounded to expire at $45.72 on March 20. WTI for May delivery increased 88 cents, or 1.9 percent, to close at $47.45 on Monday.
Dollar Falls
The Bloomberg Dollar Spot Index fell 2.2 percent last week, the biggest decline since October 2011, making commodities priced in the U.S. currency more attractive. Fed policy makers cut their estimate for the federal funds rate at year-end to 0.625 percent from 1.125 percent in December. The Standard & Poor's 500 Index gained 2.7 percent last week.
Nationwide crude inventories climbed to 458.5 million barrels as of March 13, the most since the Energy Information Administration began compiling the data weekly in 1982. Monthly data show stockpiles haven't been this high since 1930. Supplies at Cushing have grown 69 percent this year to 54.4 million, the highest since the EIA began tracking the hub's stockpiles in 2004.
Crude output rose to 9.42 million barrels a day, the most since at least January 1983. Production has surged as the combination of horizontal drilling and hydraulic fracturing, or fracking, unlocked supplies from shale formations in the central U.S.
Rig Count
Baker Hughes Inc. said March 20 that explorers idled oil rigs for a 15th week, extending the biggest retrenchment in drilling on record. The number of rigs fell by 41 to 825, the lowest since March 2011.
The U.S. production gains come as production is rising elsewhere. The Organization of Petroleum Exporting Countries exceeded its 30 million-barrel daily production target for a ninth straight month, a Bloomberg survey showed.
Net-long speculative positions in WTI dropped by 20,004 to 140,274 futures and options, the least since December 2012, according to the CFTC. Short bets increased to 178,365, while long positions rose by 15,591 to 318,639.
"If you go back six months, longs outnumbered shorts by four-to-one," Gene McGillian, a senior analyst at Tradition Energy in Stamford, Connecticut, said by phone Friday. "Now it's down to two-to-one and there's further to go."
In other markets, bullish bets on gasoline dropped 13 percent to 30,625 contracts, the lowest since November. Futures dropped 4.9 percent to $1.7301 a gallon on Nymex in the reporting period.
Pump Prices
The U.S. average retail price of regular gasoline fell 0.2 cent to $2.424 a gallon March 20, according to Heathrow, Florida-based AAA, the nation's biggest motoring group.
Bearish wagers on U.S. ultra low sulfur diesel increased 60 percent to 21,173 contracts. The fuel decreased 6.6 percent to $1.6939 a gallon in the report week.
Net-short wagers on U.S. natural gas fell 66 percent to 10,893 lots, the least in 10 weeks. The measure includes an index of four contracts adjusted to futures equivalents.
Nymex natural gas rose 4.5 percent to $2.855 per million British thermal units during the report week.
The six powers -- the U.S., U.K, France, Germany, China and Russia -- have a self-imposed March 31 deadline to reach a framework agreement with Iran about its nuclear program.
Iran may increase oil exports within months of a deal, according to U.S. and European officials. The country exports 1 million to 1.1 million barrels of crude per day, down from 2.5 million before U.S. and European Union sanctions went into effect in mid-2012.
"Prices will drop to new lows the moment we hear of an agreement," Michael Lynch, president of Strategic Energy & Economic Research in Winchester, Massachusetts, said by phone Friday. "The oil glut would grow even bigger if there's a resolution. We've been waiting for this a long time."
Before it's here, it's on the Bloomberg Terminal.
LEARN MORE