Halfords Hires McDonald's British Head as First Female CEO
Paul Jarvis and Jillian Ward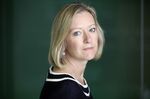 Halfords Group Plc hired Jill McDonald, the head of McDonald's Corp.'s U.K. operations, as the first female chief executive officer in the retailer's 123-year history.
The appointment ends a near three-month search for a successor to Matt Davies, who announced in January that he was stepping down to become head of Tesco Plc's U.K. business.
McDonald, 50, will take charge of the auto-parts and bicycle seller on May 11, Halfords said Monday in a statement. She joins after about nine years at McDonald's, where in addition to being U.K. CEO she is president of the restaurant chain's northwest Europe unit.
Halfords searched for a "real leader, somebody who builds a culture of customer service and colleague engagement in a consumer-facing business," Chairman Dennis Millard said by phone. "Jill ticks many of those boxes very, very well."
The appointment helps increase female representation in the boardrooms of Britain's listed companies. A March 2014 report by Cranfield University School of Management found that just 5.3 percent of companies in the U.K. FTSE 250 Index of mid-capitalization stocks had women in an executive position.
'Good Match'
Halfords shareholders can take encouragement from data compiled by Credit Suisse in September, showing that, on a global basis, shares of companies with a female board presence have widened their outperformance compared with those without one over the last five years.
McDonald's "strong brand marketing and customer service background looks a good match for Halfords where the modernization and turnaround strategy is well progressed," Investec analyst Kate Calvert said in a note.
The retailer's shares were little changed at 9:42 a.m. in London. They've fallen 3.8 percent this year.
At Halfords, McDonald will be paid an annual salary of 500,000 pounds ($746,000) plus a bonus of as much as 150 percent of her salary, prorated to her 2015-2016 service.
The new CEO's 28-year career also includes stints at Colgate-Palmolive Co. and British Airways, experience that Millard sees as crucial for the company's "getting into gear" strategy, which aims to make the business more consumer-led.
"We felt that Jill would be the right person to continue to take that strategy forward and beyond given her marketing background," Millard said. He anticipates she "will be able to devise a further direction for us."
Before it's here, it's on the Bloomberg Terminal.
LEARN MORE