Greece Shown Way on Shadow Economy With Romanian Crackdown
Andra Timu and Irina Vilcu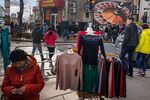 After quitting his job as a driver to focus on peddling imported shampoo and coffee at a Bucharest market, Costin Dumbrava is on the lookout for Romanian anti-fraud agents intent on ruining his flourishing business.
The 45-year-old runs a stall selling goods shipped over from Hungary and Austria to throngs of customers lured by prices that undercut local supermarkets by a quarter. The secret of his success? He doesn't pay income tax and he doesn't charge his clients value-added sales tax.
"I couldn't afford to sell at these prices if I paid taxes," said Dumbrava, whose wares included brands from Procter & Gamble Co and Unilever NV. "I saw the crackdown and the raids on television. If my turn comes, I'll have to give up."
As nations such as Greece struggle to clamp down on tax evasion, Romania is making inroads to curb its more than $40 billion shadow economy, the European Union's second-largest. With as much as a third of gross domestic product still off the books a quarter-century after communism, the push is designed to swell coffers and help the government reverse painful austerity.
"It's about time that after 25 years the law takes the reins in Romania, whether we're talking about the fiscal law or criminal law," said Dan Badin, a tax partner at Deloitte LLP's Romanian unit. "Right now, those who conduct legal business are very happy because the investigations are scaring fraudsters and reducing unfair competition. This is positive."
The leu, which has strengthened 1.5 percent against the euro this year, was little changed at 4.4105 per euro at 2:45 p.m. in Bucharest. Yields on the country's 2024 bonds increased one basis point, or 0.01 percentage points, to 1.89 percent.
President's Impact
Romania's shadow economy amounts to about 175 billion lei ($44 billion), second only to Bulgaria in the EU, consultancy AT Kearney Inc. estimates. About 72 billion lei stems from VAT evasion, Eurostat data show, making it hard to boost revenue collection that's been stuck at about 30 percent of GDP for two decades.
Buoyed by the victory in last year's presidential election of Klaus Iohannis, who ran on an anti-graft ticket, prosecutors have stepped in to help.
After raiding hundreds of companies and homes in 2014, they identified instances of fraud worth more than 2 billion euros ($2.1 billion). Anti-fraud agents discovered damages to the state of half a billion lei in the first two months of this year, the Finance Ministry said in a statement on Tuesday.
More than 300 million euros is awaiting recovery, according to chief anti-corruption prosecutor Laura-Codruta Kovesi.
"If these funds were returned to the budget, we could double doctors' wages for a year," she said March 10. "It's very important we secure criminal conviction with recovery of damage to the state. This deters future acts of corruption."
Fear Factor
A wider crackdown on graft pushed convictions to a post-communist high last year, with more than 1,130 people, including ex-officials, sentenced to prison. Many were shown on live TV being marched away in handcuffs, with almost daily broadcasts relaying images of masked police carrying out raids.
Finance Minister Darius Valcov resigned this month after a bribery probe from his time as a mayor. He denies wrongdoing.
"When you start to disband corruption networks it sets an example, and fear overcomes those who evade taxes but aren't under investigation," said Ionut Dumitru, head of the fiscal council, which oversees budget policy. "Without a significant improvement in revenue collection and fighting fraud, the planned fiscal cuts aren't sustainable."
Even as the anti-graft drive began to display results last year, Romania's assessment in Transparency International's annual Corruption Perceptions Index slipped. It ranked 69th of 174 nations in 2014, down from 43rd the previous year. Some companies even complain about an abuse of inspections, despite a good track record of paying taxes.
"In the attempt to tackle fraud, unfortunately, we see that many of the tax inspections are actually targeting honest tax-payers, big companies that have a good track-record," Daniel Anghel, a partner at PricewaterhouseCoopers LLP said in an e-mailed response to Bloomberg questions. "In some cases tax inspectors have been adopting a very strict and questionable interpretation of the tax legislation, which is hindering the activities of some companies."
Cutting VAT
Prime Minister Victor Ponta, who was defeated by Iohannis in the presidential ballot, plans to use money recovered from tax crimes to help finance a cut in the value-added tax rate to 20 percent, from 24 percent, and other fiscal easing measures planned through 2018.
Ponta this week called fighting tax evasion "a pillar of the governing program," even after his brother-in-law, Iulian Hertanu, was detained over alleged embezzlement of EU funds. While Hertanu denies wrongdoing, Ponta has said "justice must be served."
Images of officials and businessmen being dragged to prison make Dumbrava fret about his market stall's prospects.
"I hope the anti-fraud agents will target the big fish for a while longer," he said. "I have to renovate my house."
Before it's here, it's on the Bloomberg Terminal.
LEARN MORE