Europe Stocks Drop After Nearing Record With Seventh Weekly Gain
Alan Soughley and Sofia Horta e Costa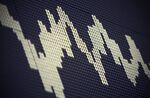 European stocks declined, after a seventh weekly gain pushed equities near an all-time high.
The Stoxx Europe 600 Index slid 0.7 percent to 401.24 at the close of trading, paring earlier losses of as much as 1 percent. The equity gauge ended Friday within 0.4 percent of its March 2000 record close, having surpassed the forecasts of 12 strategists surveyed by Bloomberg in January. The U.K.'s FTSE 100 Index, which climbed above 7,000 for the first time last week, added 0.2 percent today.
The Stoxx 600 exceeded its 2007 peak last week on speculation the Federal Reserve won't rush to raise rates. It has rallied 17 percent this year amid optimism that stimulus from the European Central Bank will revive the region's economy, while a weakening euro will boost profits. The rally propelled stocks on the gauge this month to the highest price relative to estimated earnings in at least a decade.
"Many of us have been pushing European equities for quite some time, and now they are no longer cheap," said Peter Braendle, who manages about $430 million at Swisscanto Asset Management in Zurich. "A bit of a pause seems quite healthy to me after the very respectable increase we've had this year. But it's not a bad idea to stick to equities."
Investors also watched ECB President Mario Draghi's address to the European Parliament. In an opening statement, he pushed aside concerns that the ECB's quantitative-easing plan will be hampered by a shortage of bonds available to buy.
Greek Talks
Greek Prime Minister Alexis Tsipras meets German Chancellor Angela Merkel as he seeks to salvage a bailout deal. European leaders including Merkel, French President Francois Hollande and the ECB's Draghi have been pressuring Tsipras to make good on a February accord and present a full list of specific reforms in the coming days before any further aid can be disbursed.
Greek stocks rose amid optimism that the second meeting in five days between Tsipras and Merkel may pave the way for aid payments. The Athens Stock Exchange index gained 3 percent.
Among stocks moving on corporate news, Bilfinger SE lost 1.1 percent, paring an earlier drop of as much as 3.4 percent, after saying it is investigating allegations of bribery at its unit in Brazil.
A measure of auto-related companies posted the biggest loss of the 19 industry groups on the Stoxx 600. Daimler AG and Volkswagen AG contributed the most, with declines of more than 3 percent.
Standard Chartered Plc advanced 6.5 percent to its highest price since September. JPMorgan Chase & Co. upgraded its rating of the lender to the equivalent of a buy, saying investors may see last week's U.K. budget as increasing the possibility of re-domiciling to either Singapore or Hong Kong unlocking value.
Deutsche Bank AG rose 0.7 percent, paring earlier gains of as much as 4 percent. The German lender, which runs Europe's biggest investment bank, is weighing three options to boost its profitability that would see the securities unit being scaled back, according to a person familiar with the matter.
Before it's here, it's on the Bloomberg Terminal.
LEARN MORE