Business
Can Barnes & Noble's Redesigned Shopping Bags Revive Its Bookstores?
Trying to sell the idea that a plastic bag is better than an Amazon box
Belinda Lanks
Can Barnes & Noble's Redesigned Shopping Bags Revive Its Bookstores?
Trying to sell the idea that a plastic bag is better than an Amazon box
Belinda Lanks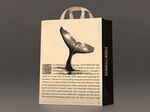 The Barnes & Noble shopping bag spent years promoting a product—the Nook e-reader, an also-ran rival to the Amazon Kindle—that was intended virtually to eliminate the need for bookstore shopping bags. It didn't work. Now B&N has decided to use its shopping bags to emphasize something Amazon.com doesn't offer: bookstores that offer handsome plastic bags.  
"You don't get a shopping bag when you shop online—you get a box," says Glenn Kaplan, Barnes & Noble's creative director. The company distributes more than 90 million bags a year, making the totes one of its most effective advertising campaigns. That's why its latest bags, featuring first pages from a classic work of literature in a florid serif font, signal a return to traditional bookselling roots. After making their debut last month in New York, the redesigned bags will eventually spread across the country. 

Barnes & Noble has a long, rich tradition of graphic excellence, starting with the original 1970s bag designed by Tibor Kalman, the chain's first creative director and the founder of the New York design firm M&Co. Kalman used an ornate woodblock motif to portray a book scribe from the pre-Gutenberg era. The latest bags also evoke an old-fashioned etching, with the words set in a serif font and forming an image evocative of the story. For The Wizard of Oz, for instance, the feet of the Wicked Witch of the East poke out from a house composed of text; for Moby Dick, a whale's tail plunges into an ocean of letters.  
The play of words and image makes "the books literally come to life," says Sagi Haviv, a partner at Chermayeff & Geismar & Haviv, the New York–based design firm responsible for the new look. Rather than placing the logo front and center, Haviv deliberately tucked the company name and website in the gussets. 

Although B&N sells physical books online and digital books through its e-reader platform, the company continues operate 649 brick-and-mortar stores with annual sales of $1.4 billion. By August, however, B&N's college-bookstore business will be split off from the profitable retail chain and money-losing Nook division. The company still sees promise in its retail efforts and recently decided to reduce the number of store closures from 20 to 13—thanks in part to the sale of craft beer kits, portable turntables, and other novelty gifts, as the Wall Street Journal reported. 
Shoppers who prefer a box of Godiva chocolates to a book will still walk away with a literary-themed bag, and B&N intends for the disposable carrier to find aspirational reuse—just as some shoppers repurpose their status-infused Tiffany, Barneys, or Organic Avenue bags as lunch totes. Kaplan looks to New York's streets for signs that the new design is working: "I've seen a lot of reused bags in my travels around town," the Barnes & Noble executive says.
Join us on April 28 in San Francisco for Bloomberg Businessweek Design 2015.