Cameron Rules Out Third Term as U.K. Prime Minister
Alex Morales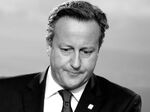 U.K. Prime Minister David Cameron, who's seeking re-election on May 7, ruled out running for a third term in 2020, saying "fresh leadership would be good."
"I'm not saying all prime ministers necessarily definitely go bad, or even go bad at the same rate," Cameron said in a BBC Television interview broadcast Monday. "The third term is something I'm not contemplating."
The prime minister named Home Secretary Theresa May, Chancellor of the Exchequer George Osborne and London Mayor Boris Johnson as potential successors at the head of his Conservative Party. "There's plenty of talent there," he said.
Cameron is fighting for re-election in the most uncertain U.K. election in decades, with polling indicating neither his ruling Conservatives nor the opposition Labour Party will win enough seats to control Parliament. The prime minister said he's standing for a "full second term" because "I want to finish the job."
"The economy has turned around, the deficit is half down," Cameron said. "I didn't just come to do this to deal with the debts and the mess, I want to go on with the education reforms and the welfare reforms."
Conservative Chief Whip Michael Gove told the BBC he wasn't surprised by Cameron's statement.
"It reinforces in everyone's mind the fact that we have, as our prime minister, a normal, sane, decent guy who is in politics for the right reasons," Gove said. "He's not in it for glory, ego or wealth."
'Shelf Life'
Defence Secretary Michael Fallon said in a BBC interview that "there is a shelf life to every politician."
Johnson described Cameron's move as "no big deal," saying on his regular phone-in program on LBC Radio that the prime minister was "being rather straightforward and rather humble and telling it like it is." The London mayor dodged a question about taking over as premier.
Cameron's announcement suggests that if he wins in May there may be a smoother transition of leadership than most predecessors have had. With no term limits, all except three of the 18 prime ministers in the 20th century went on until they lost an election, were forced out by their own party, or died.
Former Prime Minister Gordon Brown lost to Cameron in 2010, just three years after succeeding Tony Blair. Blair, who had said he wanted to see out a third term of office, ended up quitting halfway through in order to curtail a revolt in the Labour Party. That followed years of in-fighting with Brown and his supporters.
'On and On'
The last Conservative prime minister, John Major, lost to Blair in 1997. Major took the leadership after Margaret Thatcher was forced out of office by her own party in 1990. Thatcher famously said in an interview in 1987, "I hope to go on and on."
Cameron's coalition partners, Deputy Prime Minister Nick Clegg's Liberal Democrats, said his remarks were "incredibly presumptuous," while Labour's chair of strategy for the election, Douglas Alexander, called the prime minister "arrogant."
"It is typically arrogant of David Cameron to presume a third Tory term in 2020 before the British public have been given the chance to have their say in this election," Alexander said in an e-mailed statement. "It is for the British people and not the prime minister to decide who stays in power."
The Liberal Democrats said in a statement that Cameron "should spend a bit more time considering how he can possibly justify to voters the Tories' dangerous plans to cut public services than agonizing over his own long-term legacy."
(The year Major lost to Blair was corrected in an earlier version of this story.)
Before it's here, it's on the Bloomberg Terminal.
LEARN MORE