Bhutan Wants a Kickstarter Deal From Wall Street to Protect Its Massive Water Supply
Prime Minister Tobgay visits the U.S. to court investors for a push to preserve the "water tower of Asia"
by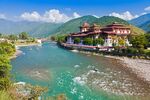 Bhutan's national soccer team, ranked lowest among 209 squads, gave the prime minister a gift to take with him on a trip last week to the U.S.—its first win in a World Cup qualifying match. 
"The ranking really doesn't matter," said Prime Minister Tshering Tobgay in an interview at Bloomberg headquarters in New York last Monday. "It's the fact that you participate, have a good time, and you belong to the community of nations."
Bhutan, population 750,000, has belonged to the community of nations for a long time, reemerging recently with a new government. Its century-old monarchy ended in 2008, when the king voluntarily abdicated and his son, King Jigme Khesar Namgyel Wangchuck, took over as a constitutional monarch. Democracy in Bhutan was a planned feat that came after years of gradual decentralization of power and development of civic institutions. "The transition didn't happen suddenly," Tobgay said. "It happened over decades, little known to the people of Bhutan."

Educated at the University of Pittsburgh, on a Bhutan government scholarship, and at Harvard, Tobgay is the young democracy's second prime minister. He speaks softly and deliberately, with an intense focus. Asked how he explains the team's victory, he answered dryly, "They scored one goal in the 84th minute, and that's how they won." 
The prime minister visited the U.S. partly to talk about Bhutan's resources and how he's planning to protect them and to court investors. Like its many neighbors, landlocked Bhutan is developing quickly. Young people are looking for work, and the government is eager to find an economic model that will provide jobs without harming its phenomenal forests and biodiversity. 
The government is working with the World Wildlife Fund, the conservation nonprofit with projects in 100 countries. WWF's first project in Bhutan came in 1977. Carter Roberts, president and chief executive of WWF in the U.S., hopes high finance can bring some long-term protection to Bhutan's forests and, by extension, its rivers. Roberts attended the Tobgay interview, which was arranged by WWF.
"If you lose the forests," Roberts said, "you don't keep those watersheds the same quality and quantity." 
WWF, working with the Linden Trust for Conservation and others, hopes to repeat in Bhutan a funding model that it introduced in the Brazilian Amazon. 

By 2011, Brazil had set aside 235,000 square miles of tropical rainforest for a huge protected area, almost 1.5 Californias of land, or 11 Bhutans. The NGOs and foundations teamed up with the Brazilian environmental ministry to adapt a Wall Street project-finance mechanism that would give Brazil a 25-year head start on funding the Amazon area permanently. 
The trick was to find a way to raise private money and protect donors from risk. They did it by structuring a deal in which investors commit money but aren't asked to deliver it until the total funding figure has been met. Kind of like Kickstarter, the deal closes for everybody, all at once, only when they hit the target and, critically, the target country has guaranteed that it can deliver the work required. 
When the Brazil deal closed last year, it had secured $215 million, which will fund conservation of the Amazon Regional Protected Area for 25 years. By the time the funding runs out, Brazil is obliged to have in place funding and authorities to conserve the area into perpetuity. 
If WWF and its partners can pull off a similar deal for Bhutan, it will go some way toward protecting the kingdom's forests, which by Bhutan's constitution must cover at least 60 percent of the country. A funding deal might cover the expenses for staffing patrols and wildlife monitors, restoring damaged areas, and helping communities manage their forests and adapt to climate change. 
Bhutan, tucked between China and India, is a key player in Indian water security. The country sits on the southern slope of the Tibetan Plateau, which holds more ice than any place on Earth that isn't a pole. The region's mountain ice is so great that it's often called the "third pole" or the "water tower of Asia." Glaciers from the plateau supply most of Asia's rivers and, by extension, some 2 billion people. 
Water security is drawing more attention as the region's population swells, putting more stress on rivers and the nations that share them. The United Nations released an annual report on water development to mark UN World Water Day on Sunday. The report bemoans the often poor state of water management around the world. There's enough water to meet everybody's needs—but not under current management practices. Of the 263 lake and river basins that cross national boundaries, 158 "lack any type of cooperative management framework," the report says. 
Bhutan is a positive case study. Its rivers together carry an amount of water larger than the Rio Grande and flow through an area smaller than Switzerland. It's enough water to support 30 gigawatts of electricity generation, or about a third of what the entire U.S. has installed. And, like most water, Bhutan's flows downhill. To the plains of India. 
That's one reason Indian Prime Minister Narendra Modi visited Thimphu, Bhutan's capital, on his first trip abroad after 2014 elections. Trade with India accounted for more than 80 percent of Bhutan's imports and exports last year. Bhutan has opened diplomatic relations with 52 nations since it established formal ties with India in 1968. It has a friendly relationship but no diplomatic relations with the U.S., neighboring China, or the other permanent members of the UN Security Council. It is a geopolitical buffer between Asia's two giants.
"As far as China is concerned, we have a border, a border that has yet to be finalized," Tobgay said. "And that is the main focus for engagement with China. Our relations with China are cordial. We have absolutely no problems, and we are holding discussions on the border."
That's a long-term conversation. In the meantime, the country is enraptured by a second victory against 174th-ranked Sri Lanka—this time in Thimphu, 9,000 feet above sea level. 
Topography and ecology define how people live everywhere. In Bhutan, it's just more obvious. 

(An earlier version of this article referred to the World Wildlife Fund, or WWF, as the World Nature Foundation and gave incorrect information about the date of World Water Day and Bhutan's diplomatic relations.)
Before it's here, it's on the Bloomberg Terminal.
LEARN MORE