Asia's Top Bank Stock Beats Indian Rivals With Loan Growth
Anto Antony and George Smith Alexander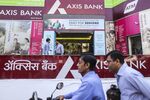 Axis Bank Ltd. is Asia's best-performing bank stock in the past year as it extends loans at twice the pace of Indian rivals wary of the highest stressed assets in more than a decade.
As the Mumbai-based lender took market share from its domestic competitors, its stock surged 97 percent in the past 12 months, the biggest gain of the Bloomberg Asia Pacific Banks Index's 60 members. The market capitalization-weighted gauge increased 26 percent in that time.
By lending mainly to companies with a credit rating of A or higher, Axis Bank has kept its bad-loan ratio at less than a third of the nation's average even as rivals focused on curbing bad debt by reining in credit. Axis has forecast loan growth of more than 21 percent for the year ending March, exceeding the 10.2 percent expansion in the nation's banking system for the 12 months through March 6.
"Primarily high-grade corporates looking to refinance loans at lower rates and inorganic activities are driving our corporate loan growth," Srinivasan Varadarajan, executive director at Axis Bank, said in a March 19 interview in his office. "We have been lot more aggressive in participating. You've got to be there earlier than others and have to get things done faster."
Rule Change
Axis Bank's loans climbed 23 percent in the quarter through December, compared with 13 percent ICICI Bank Ltd., the country's largest private sector bank by assets, and 6.9 percent at State Bank of India, the nation's biggest. As many as 65 brokerages analyze Axis Bank's stock, according to data compiled by Bloomberg.
The lender's equity have also benefited from a proposed government rule change that would allow overseas investors to buy more stock in private-sector banks. The shares rose to a record after Finance Minister Arun Jaitley unveiled the proposal in his Feb. 28 budget.
Axis Bank gained 0.4 percent to 557.4 rupees as of 9:53 a.m. in Mumbai on Tuesday. While the stock has gained 11 percent this year, it has dropped out of the top 10 in the Asia Pacific amid speculation Indian banks will have to set aside more reserves to cover restructured loans following a credit reclassification that takes effect April 1.
Westpac Banking Corp. and Mitsubishi UFJ Financial Group Inc. are the top performers in the regional bank index this year with gains of at least 17 percent.
Higher Provision
Starting next month, an exemption allowing restructured loans to be classed as standard lending ends, meaning banks will have to lift provisions to cover 15 percent of any new restructured credit, up from 5 percent now.
Distressed borrowers are allowed under a 2001 central bank mechanism to apply for extensions or lower interest rates from their creditor banks to help make repayments. After the 2008 financial crisis, the Reserve Bank of India allowed banks to class these restructured portfolios as standard credit rather than as non-performing assets to lower capital imposts and encourage lenders to extend loans.
Axis Bank's restructured advances amounted to 2.37 percent of net customer assets as of Dec. 31, according to data on the company's website. Restructured loans in India's banking system represented 5.94 percent of total lending, data provided by the finance ministry in New Delhi shows.
Global Slowdown
Mid-sized companies continue to face difficulties in repaying loans as the global economic slowdown damps demand for their products, said Varadarajan, who heads Axis Bank's corporate-lending business. Stressed assets at Indian banks rose to 10.7 percent of total lending as of December, the highest level in 12 years, finance ministry data show.
While Varadarajan foresees more troubled borrowers seeking to restructure their debt, he anticipates rising demand for credit from telecommunications companies to pay for mobile-phone licenses. Service providers from Bharti Airtel Ltd. to Vodafone Group Plc are bidding for spectrum in government auctions that continued on Monday.
Axis will seek to offer large bank guarantees and loans to highly rated phone companies, Varadarajan said. Of the bank's corporate lending, 60 percent was extended to companies rated A or above, a presentation on Axis's website shows.
"The rating distribution of Axis Bank's corporate borrowers is expected to remain stable," said P Karthikeyan, a Chennai-based analyst at Cholamandalam Securities Ltd. "The bank has been successful in increasing its share of low-cost retail deposits in its funding base and control its cost of funds. This helps them to compete on the pricing front while lending to highly rated companies."
The bank's cost of funds -- the rate paid by lenders for the funds deployed in their business -- eased by 12 basis points to 6.17 percent last year, filings show.
"The economy and environment have improved over the last 12 months," Varadarajan said. "We are more hopeful as far as the business is concerned when we look ahead."
Before it's here, it's on the Bloomberg Terminal.
LEARN MORE